Barbara Henning, wife of the Eccles taxi driver and aid worker who was beheaded by Isis (Islamic State), has released a moving statement thanking the government and community for their support.
However in an interview with the BBC, her brother Colin Livesey accused the government of not doing enough.
"As a family we are devastated by the news of his death," said Mrs Henning, who last week appealed to Isis to release her husband. "Myself, Lucy and Adam [Mr Henning's children], and all of Alan's family and friends are numb with grief."
She continued: "During this ordeal we have relied heavily on the support of many people. That support from the government, FCO [Foreign and Commonwealth Office] and GMP (Greater Manchester Police) has been there from the start and has meant that we were able to get through the most awful of times."
However in an interview with the BBC, Mrs Henning's brother Colin Livesey was less charitable about the government's handling of Alan's ordeal "when they knew about it, months and months ago".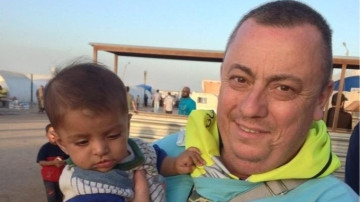 Livesey pulled no punches in how he felt about Mr Henning's killers. "I just hope and pray they get what's coming to them. I've just so much hatred for them."
The news of Henning's death caused revulsion around the world, nowhere more than in the cabbie's hometown of Eccles, Greater Manchester.
Today imams at local Muslim leaders from Manchester issued a public statement at Manchester Central Mosque (MCM) in which they called Alan Henning's murder "the beginning of the end" for the terror group Islamic State.
Reading the statement inside the mosque Dr Shameela Islam-Zulfiqar said: "We cannot comprehend that's something so terrible can happen to such a wonderful and compassionate human being. News of his murder has left us all enraged and distraught. In the face of this atrocity, we all need to stand together as Muslims and non-Muslims. We should not let this divide us – that is what Alan would have wanted."
However, her statement also criticised the government, blaming its decision to join the military campaign for Mr Henning's death. "By joining the US Air Strikes, we handed Alan and many other Western hostages a death sentence."