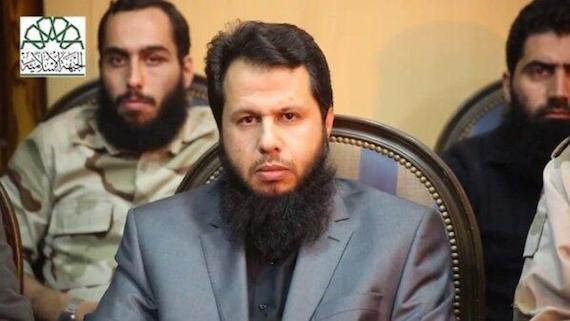 One of Syria's largest rebel group's has announced a new leader and military chief after a suicide bombing killed 28 members of its senior leadership at a secret meeting.
A spokesman for the Ahrar al-Sham group posted an online video statement confirming that Hashem al-Sheik Abu Jaber is to take full control of the group with Abu Saleh Tahan becoming the group's military commander.
The explosion wiped out most of Ahrar al-Sham's chiefs, including leader Hassan Abboud, and took place in the northwestern town of Ram Hamdan in the Syrian province of Idlib, according to activists from the Britain-based Syrian Observatory for Human Rights.
"Twenty-eight heads of the Ahrar al-Sham group were killed in an explosion that targeted a meeting tonight... in Idlib province," Syrian Observatory for Human Rights director Rami Abdel Rahman said.
A statement from the group's rebel coaltion the Islamic Front on its Twitter feed read: "They were martyred ... in an explosion inside their meeting headquarters."
The group's slain leader Abboud was a former prisoner at the Seidnaya compound but was released from the prison in an amnesty by Syrian President Bashar al-Assad in 2011.
Aron Lund, a research of Syrian jihadi groups, said that the attack was a "crushing blow at a crucial moment" for the terror group.
No group has yet claimed responsibility for the attack on the meeting. Some reports have linked Isis (now known as the Islamic State) to the attack but this has not been confirmed.
Ahrar al-Sham are opposed to the Islamic State as a more moderate force in the region. In an interview with the BBC in June, Abboud condemned the Islamic State: "Isis does not reflect Islam in any way. Islam is a religion of peace. It is not a religion of slaughter. Isis represents the worst image ever of Islam."
Some 190,000 people, many of them civilians, are now known to have died since the beginning of the civil war in 2011. An estimated 3 million people have been made refugees by the fighting.