Russian jets have targeted areas controlled by the Islamic State (Isis) in Syria, including its de facto capital Raqqa, killing at least 12 jihadists, according to reports from a monitoring group and the Russian defence ministry. On the evening of 1 October air strikes on Raqqa province hit an IS training camp and a command post, widening the scope of an aerial bombing campaign that had previously targeted non-IS rebel groups opposed to the regime of Bashar al-Assad.
The training camp, near the village of Maadan Jadid, 70km (43 miles) east of Raqqa city, and a command post at Kasrat Faraj, southwest of the city, were struck by a Russian Su-34 − the most modern aircraft so far to have taken part in the three-day old military operation.
Some 18 sorties have been conducted in 24 hours, bringing to 30 the total number of strikes in Syria. The Syrian Observatory of Human Rights (SOHR), a-UK based opposition group, has said that the strikes had killed a dozen jihadists.
"Last night, Russian strikes on the western edges of Raqqa city, and near the Tabqa military airport, killed 12 ISIS jihadists," it said.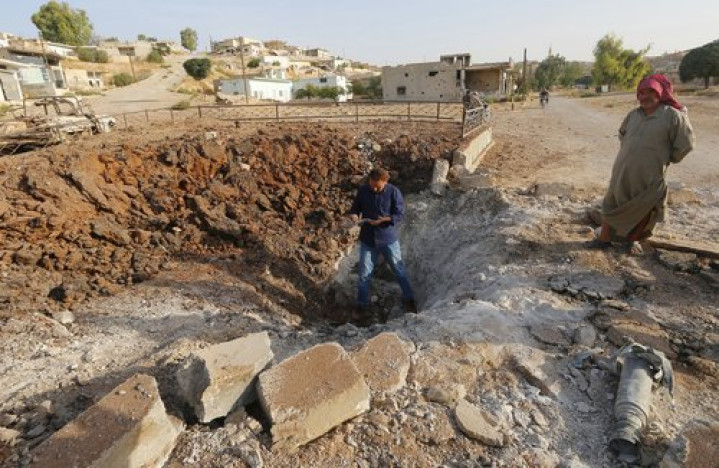 Russian raids also shattered a command post and communications centre "held by IS" in Dar Tazzah, northern Aleppo province, and other depots in Maaret al-Numan and Habeet in northwest Idlib province, the Russian defence ministry said, as well as another "IS command post" in Kafr Zeita, in central Hama province.
However, the Observatory and rebel groups from the ground stated that none of these areas are held by IS. Most are controlled by al-Qaeda-linked al-Nusra front and other Islamist groups.
A senior Russian lawmaker has claimed that the campaign in Syria will last between three to four months and bombardments will intensify. Russian President Vladimir Putin is set to meet with his French counterpart in Paris on 2 October to discuss peace efforts in Ukraine, but the agenda is expected to be dwarfed by the Kremlin's recent entry into the Syria conflict.
Washington has claimed that the Russian campaign is just an excuse to help Assad reclaim lost territory.