Syrian children suffer from 'toxic stress' resulting in substance abuse and suicide attempts
In some regions of Syria there is only one psychiatrist to assist over 1 million people.
A Save the Children report has warned that children caught in the Syrian conflict are affected by "staggering levels" of psychological trauma. The study is the largest undertaken of its kind during the refugee crisis in which 5.8 million Syrian children are in need of aid.
The authors of the study say that the high levels trauma and distress experienced among the children is causing irreversible harm to their lives.
Findings include an increase in suicide attempts among children as young as 12, according to the Invisible Wounds report, which highlights the impact of six years of war on the mental health of Syria's children.
Over 70% of children interviewed showed symptoms of "toxic stress" or post-traumatic disorder (PTSD), such as bedwetting. Around 48% of adults noticed children had developed speech impediments since the Syrian civil war began.
Mohammed, an aid worker with Shafak, a Save the Children partner in Idlib, said: "We notice that they are always stressed and react to any unfamiliar noise – [such as] if a chair moves or the door bangs – because of their fear of the sound of aeroplanes and rockets.
"Children are increasingly isolated and don't like to participate in our activities, and in the young children we're seeing a lot of cases of involuntary urination."
A father of a three-year-old said: "My son wakes up afraid in the middle of the night. He wakes up screaming. A child was slaughtered in front of him, so he started to dream that someone is coming to slaughter him."
Madaya, a town under siege since 2015, has seen at least six children, the youngest a 12-year-old girl, attempt suicide, medical staff reported.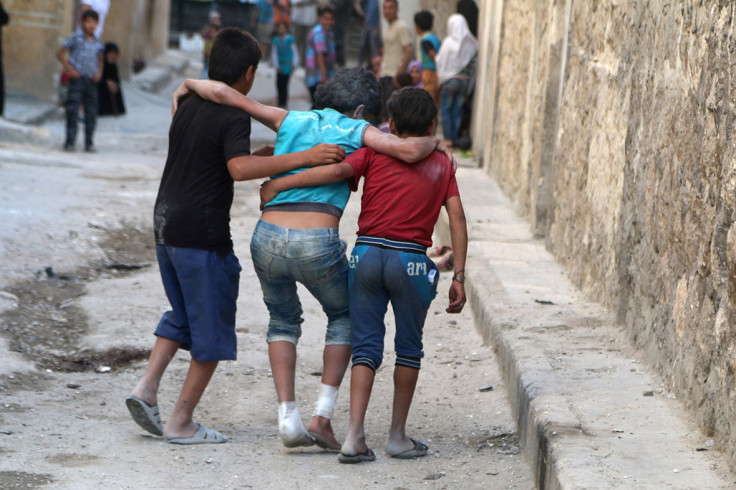 "Children wish they were dead, and that they would go to heaven to be warm and eat and play," Hala, a teacher in Madaya, said. "They wish they would be injured by a sniper, because if they got injured they would go to the hospital and leave the siege and eat whatever they want."
According to the Guardian, in some regions of Syria with over 1 million people, there is only one psychiatrist.
© Copyright IBTimes 2023. All rights reserved.