Canadian Prime Minister Justin Trudeau has said the world can learn from Canada's legacy of diversity placing his administration in a position of international moral leadership on Syria's refugee crisis.
Addressing an audience in London at Canada House ahead of a meeting with British Prime Minister David Cameron, Trudeau said the international community could learn from Canada's unique experience of assimilating different nationalities and refugees saying its example was the country's "greatest contribution to the world".
The Canadian prime minister added the current refugee crisis was an "urgent global crisis" saying the world would continue to face an "influx of refugees from violent conflicts".
As Canada prepares to welcome 25,000 vulnerable refugees in the coming months, Trudeau pledged the initial arrivals were just the start of a greater effort. "We've done it before and we will do it again," he said. "We are not accepting refugees, we are welcoming new Canadians."
Trudeau has said his stance on the refugee crisis was welcomed by the Obama administration and elsewhere around the world but it has stoked controversy at home. A poll conducted in the wake of the Paris attacks by Islamic State (Isis), cited by CBC, has shown a majority of Canadians are opposed to the resettlement of refugees.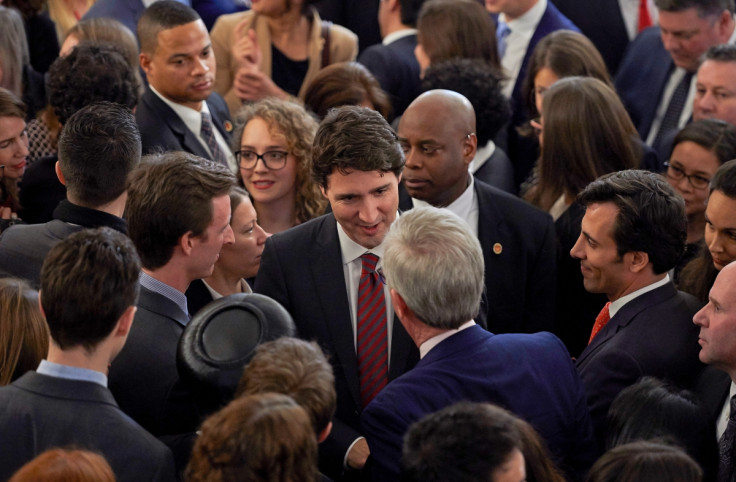 Trudeau's newly elected liberal government has had to renege on its commitment to accept all 25,000 Syrians by the end of the year, pushing its deadline back to February with security screenings for the refugees now to take place in their countries of origin rather than in Canada.
Speaking after his speech, Trudeau said: "Security concerns were always at the heart of our thought processes going forward. We know that one of the primary responsibilities of governments is to keep its citizens safe. We were aware that people were going to raise security as a reason not to welcome refugees at all."
Trudeau has also faced criticism for his decision to withdraw Canadian warplanes from the coalition against IS in Iraq and Syria. When asked whether he would make clear exactly what assistance Canada would provide to the coalition, Trudeau said the nation would remain a strong player in terms of military engagement and "how we do that is subject to a thoughtful process". He added that Canada would ensure a "maximal level of helpfulness in what Canada does well".
The Canadian prime minister is due to leave London to attend the Commonwealth Heads of Government Meeting, in Valletta, Malta, from 27 to 29 November. He will then travel to Paris for the Leaders Event 21st session of the Conference of the Parties, under the United Nations Framework Convention on Climate Change.