Syrian refugees in Egypt despair at dire conditions and see Europe as their only hope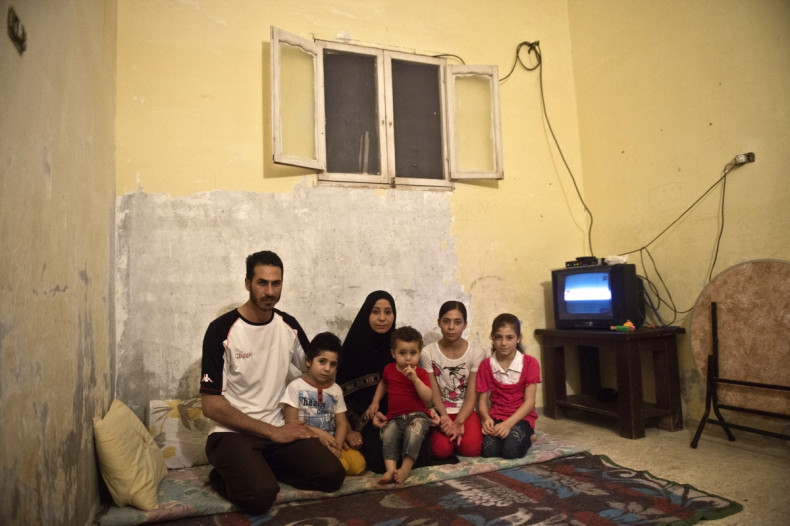 Syrian refugee Yehia had imagined Egypt being the "just like the movies" that are popular throughout the Arab world. Little could he have imagined how wrong that perception would turn out to be.
Two years since he fled Syria's hellish civil war with his family, they now live in a poor area of Cairo full of drug addicts and slum landlords charging extortionate rents to Syrians. His children are bullied at the local school because of their Syrian accent and have begun refusing to go. Now Yehia – like thousands of others – is looking to reach Europe.
"We're really considering moving to Europe - Italy or something - but we're still very short on money. I'm planning to leave by sea, but I'm worried because it's also very dangerous," he told IBTimes UK.
Official UN figures suggest that the overall number of Syrian refugees in Egypt is dropping, standing at 134,000 as of July 2015 as many opt to brave people traffickers and cross the Mediterranean for Europe. Over 2,800 people have drowned making that deadly journey this year, mostly attempting the crossing from neighbouring Libya.
Egypt continues to be a transit country for a lot of refugees who hope to reach Europe, especially when they realise how bad the living conditions in cities like Cairo are. It took Yehia four months to find a one-bedroom apartment in the 6th of October City neighbourhood of Cairo, and before that they shared a two-bedroom apartment with another Syrian family. Today, life is far from easy. "My wife and I do not even allow our son to go to the market at the end of the street alone," he said.
His 12-year-old daughter and 8-year-old son have not attended school regularly since the uprising in Syria in 2011 and have struggled with the public schools in Egypt. "I'm really surprised with the uncleanliness and the chaotic environment in the schools I put my children in; it's hazardous. More than 50 students on top of each other in one class. I think it's crazy.
"We've put them in Syrian refugee schools this year; it's not their best option integration-wise, but it's better than having to witness their self-esteem drop every day coming back from school. I didn't want that. It's just a temporary solution until we find another way out."
Since Yehia doesn't hold a residency card in Egypt, he is unable to apply for an employment permit, which he describes as a major obstacle to leading a normal life in Egypt. It took Yehia seven months to find a job. He now works as a salesman at a shop in a Cairo mall but receives a very low salary.
The UNHCR office in Cairo have helped him gain his refugee status and connected him with the Syrian community. He said that the process was slow and bureaucratic but could have been worse.
Yehia said the family would like to return to Syria, given the chance, but thinks this is unlikely. Even though he appreciates that Egypt has given him sanctuary, for the sake of his children's future he feels that reaching Europe is the only option.
Egypt is a stepping stone to Europe
Since January this year, more than 430,000 migrants and refugees have made the treacherous journey across the Mediterranean to Europe, according to the International Organization for Migration, and more than 2,800 have died on the way. The bulk of those people are Syrian refugees fleeing a four year conflict that has killed more than 240,000 and driven half the population from their homes.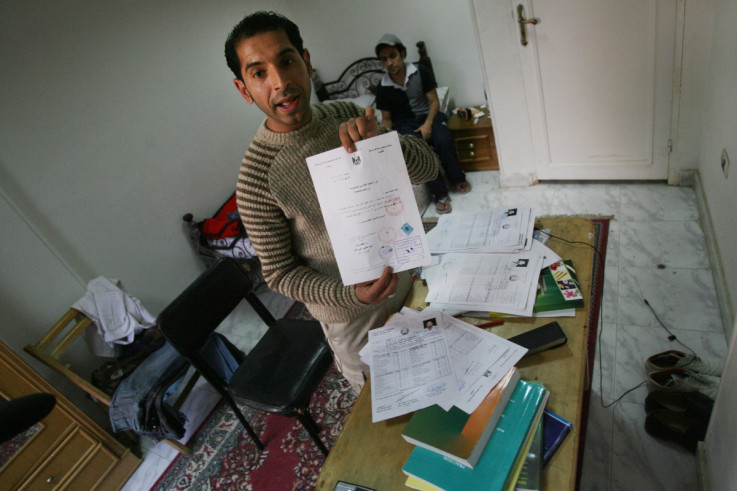 Iraqi refugee Ali al-Bayati, 26, shows an official document during an interview, 7 March 2007 in Cairo.
KHALED DESOUKI/AFP/Getty Images
Cherine Hassan at the UNHCR registration and family unity office in Cairo, said that while refugees in Jordan and Lebanon had tended to accept that they will have to remain in those countries until the war is over, many Syrians see Egypt as a stepping stone to Europe.
"A lot of those who come to Egypt are in a better financial situation than others who flee to Lebanon, Jordan or Turkey as they can afford the flight ticket. [Those who aren't financially stable flee] to a neighbouring country, but they live in camps; however, in Egypt they live in urban cities," she said.
Hassan said that despite the concerns of refugees about their living conditions, Egypt had been very welcoming to Syrian refugees. "They have their own schools, they are running businesses, [the fact that they are] being requested to obtain residency permit during their [stay] in Egypt to legalize their situation doesn't mean that they are not welcomed," she said.
Hassan also defended new regulations that forced Syrians to obtain a visa before coming to Egypt: "It is a security precaution given the unstable security situation in surrounding countries," she said.
Amira, 34, another refugee that spoke to IBTimes UK, agreed with Yehia that conditions in Egypt can be severe. She fled Syria after her husband of two months was killed and it took her and her family three weeks to reach safety in Cairo. "Those three weeks were from hell, it was such a stressful trip, I honestly felt that my life is over and I wouldn't survive till I reach a safe place," she said.
Amira and her family had trouble getting an apartment for a reasonable price in Cairo, which heightened her stress and further intensified her depression following the death of her husband.
"We were being asked to pay more rent than Egyptians, because we aren't; we were also asked twice to leave the house we rented, until we managed to get a lawyer to sort out all our paper work," she said.
The most common psychological consequence that refugees face due to their experiences is depression, said Hala Mahmoud, psychology professor at the American University in Cairo, who has been working with refugees in Egypt for ten years.
Mahmoud added that depression is usually associated with the loss of their way of life and, like Amira, losing loved ones. "It is important to stress that refugees can be significantly resilient and most of them are able to cope effectively with their difficulties, especially when the host environment is comfortable," Mahmoud said.
Refugee rights
The Egyptian Foundation for Refugee Rights (EFRR) is one organisation that is trying to ensure that Syrian's environment in Egypt is as comfortable as possible. Founded in 2008, EFRR is a non-governmental organization that provides legal services and secures the rights of refugees and migrants in Egypt, as guaranteed by international and domestic law.
Mohamed Bayoumi, executive director of EFRR, said that many Egyptians do not understand why refugees come to their country and as a result are not as welcoming as they could be.
"The problem occurs because Egyptians are not aware of the refugee crisis; most Egyptians do not understand why refugees exist, what they suffer from and what their rights should be," he said, adding that this makes Syrians feel less integrated in society.
Once Amira was granted official refugee status from the UNHCR, she found a job as a mathematics teacher in a private school, which she has enjoyed. But she says that outside of the classroom she has found hostility from Egyptians who believe she wants to make a life in the country.
Even so, she will not joining others on the boats that take refugees to Europe. "I don't think I want to move to Europe or elsewhere. My parents are old and I wouldn't want to drag them in dangerous boats. We've seen enough, but I understand anyone's will to leave. Living here needs patience," she said.
Amira said she would definitely go back to Syria "if it's safe again," but until then, her life will be in Egypt.