In a coffee shop in Gaza City, Syrian refugee Anas Katerji bursts into a well-known Palestinian song: "Palestine my homeland, my victory bath, Palestine stays my heart's passion."
The 28-year-old fled his home in Aleppo in the face of vicious fighting between rebel forces and Bashar al-Assad's army and after eventually reaching Egypt, he did not receive the welcome he had expected. He and a group of other Syrians made the dangerous trip across the Sinai and into Gaza through smuggling tunnels.
The Gaza Strip is cut off on three sides by Israel – which rarely allows Palestinians to cross its heavily fortified checkpoint to the north – and on the other by Egypt, which has all but sealed its border with Gaza since General Abdel Fattah al-Sisi took power. Hamas, which rules Gaza, is an offshoot of the Muslim Brotherhood, which Sisi ousted from power in a military coup and there is no love lost between Egypt's ruler and the Palestinian group.
Now over 1.4 million people live on a 360sq km strip of land where infrastructure and housing has been devastated in 2014's war with Israel. Palestinians and those sympathetic to the Palestinian cause describe Gaza as "the world's largest open air prison" – despite this, Syrian refugees are breaking in.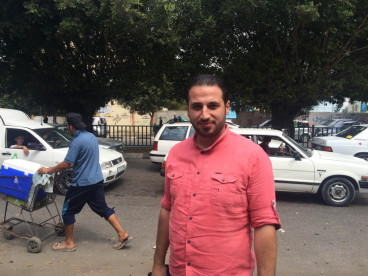 "Palestine historically has its place in each Arab and Syrian heart, especially Gaza. We hold love and solidarity for her. Syrians [flock] everywhere [now], I have experienced death a thousand times in Aleppo. We have lost everything, and here in Gaza too, even fireworks would scare me now," he said.
Speaking of his life in Egypt, he said Syrians were poorly treated and he felt Palestinians in Gaza would understand what it means to be a refugee, given many Gazans were forced from their homes in 1948 and 1967 and are refugees themselves.
"Life in Egypt became impossible [and as] refugee is a word that also refers to Palestinians, I believed they were the only people that will understand our suffering and stand side by side with Syrians," he said.
Asma and her six-year-old son was living in Damascus with her Palestinian husband when the war broke out. They were able to fly out of the country but said the journey was hard and her husband was stopped and interrogated throughout it.
When they reached the Gaza border, Asma was told she could not enter Gaza with a Syrian passport. Her husband tried to arrange for her to be brought in through the tunnels but she was unsure: "I told him that he should continue and better for me to go back and die in Syria rather than die in a tunnel with my son."
Asma tried several times to cross the border and was eventually allowed in. She has lived in Gaza City ever since. "We were living a great life in Damascus [and] my husband told me that I could not live in Gaza, that [the] lifestyle is different to that of Damascus. I insisted that I will be happy there [...] because as long as we are in Palestine it matters not," she said.
But Asma realised soon after that life in Gaza was difficult, and not just because of its isolation. "I have friends here and my husband's family are like my own, but every life aspect financially, emotionally and politically makes it hard to handle. Alienation is so hard, nothing like home and family," she said.
Other Syrians have quickly got established in Gaza, setting up businesses and starting families. Wafeef, 35, had a horrific ordeal in Turkish refugee camps before getting to Gaza, where he has now set up his own fast-food restaurant – the Syriana – and married a local woman, Maha.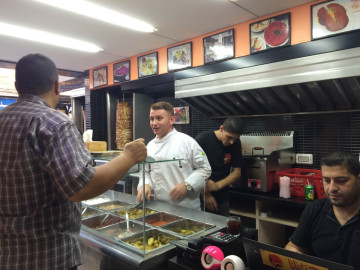 "I went to Egypt running from the disaster of life in Turkish refugee camps. I spent 44 hours on a death march, the first seven months was fine then the situation for Syrians became hard by the way we were treated, as part of the policy from the Turkish government," he said.
"A friend told me that he could find a better life in Gaza. I loved it because it was Palestine. The only obstacle was how to actually get there."
Wafeef eventually got into Gaza through the tunnels and while he has appreciated the welcome given to Syrians by Palestinians – which contrasts, he says, with how Syrians are treated elsewhere in the Middle East – he too has found life in the Strip difficult. Not least because as a Syrian, the refugee agencies in Gaza will not help him.
He said: "I spent the first 10 days in Gaza wondering and seeing what I can do then I see the love and kindness of people. Gazans never made me feel like a second-class citizen, I became their people. But I still I can't live with no hope to grow. Life is hard here. UNRWA [United Nations Relief and Works Agency for Palestine Refugees in the Near East] had told us that they can only serve and help only Palestinian refugees."