Hiva Ibrahim, 30, migrated to Turkey's south-eastern province of Sanliurfa in September 2014 with her siblings after her home town of Kobane in northern Syria was bombarded in an Islamic State (Isis) attack. Two years on, she volunteers at a local NGO and makes her living as a translator.
"Before the uprising in Syria, I frequently travelled to Turkey and there was a positive attitude towards Syrians. But now everything has changed completely," Hiva told IBTimes UK.
When Hiva walks the streets she hears people saying, "When will you go back home?" or "You seized our husbands". During the Ramadan holiday, she was walking around with her friends when some locals threw stones at her.
The attack came in July amid an inflammatory political debate following the idea of granting citizenship to Syrian refugees proposed by President Recep Tayyip Erdogan. The proposal triggered huge social reaction among local Turks who saw it as a threat to their jobs and peace.
The rhetoric has only intensified in the wake of a series of bloody terrorist attacks by Islamic State (Isis) in Turkey, for which some Turks blame the Syrians.
"They say that we are the main reason for all the recent bloody attacks of IS in Turkey. But it is completely wrong. All we want is to be treated like human beings," she said.
Since 2011 when the first Syrian refugees began to cross the border, Turkey has given shelter to around three million, making the country the host to the largest refugee population in the world.
But around 90% of refugees remain outside Turkey's 26 camps, with limited access to basic services, including education and healthcare. They are thus more vulnerable to animosity due to relatively higher interaction with local people. They are mainly employed in informal jobs with lower wages.
So far, Turkey had spent around $10bn (£7bn) to help Syrians living in Turkey, while the European Commission and EU member states are funding refugee-focused humanitarian and development projects in Turkey worth €3bn (£2.5bn, $3.4bn).
But there is still much to do at the local level to build bridges between Syrians and Turks and to open communication channels. Much of the animosity between Syrian refugees and local Turks can be attributed to the poor knowledge of language. Learning Turkish will be key for Syrians to integrate with local people.
Syrian refugees being scapegoated for IS attacks is another trend in the country, which has faced many security threats from terrorists at home. In June, Istanbul's Ataturk airport was hit by three IS suicide bombers, killing 44 people.
I hope all Syrians who disrupted our social tissue get back to Syria once the war finishes
Last month (August 20 2016) a suicide attack by IS targeted a wedding ceremony in Turkey's south-eastern province of Gaziantep near the Syrian border, killing 55 people and injuring about 100 people. The celebration was attended mostly by Kurds.
Gaziantep, a city of around 1.8 million people, hosts nearly 350,000 Syrian refugees fleeing the civil war in their country – a significant proportion of the local population.
Esra Kacan, 26, has been living in Gaziantep for five years, and she has witnessed the sociological effects of the refugee crisis since the very beginning.
"Before the civil war in Syria broke out, Gaziantep was a relatively calm city. With the arrival of the refugees, we had a security problem with the rising rates of theft and rapes as well as divorces," Kacan told IBTimes UK, adding that the terror attacks of ISIS also gained momentum following the influx of refugees into the southeastern provinces.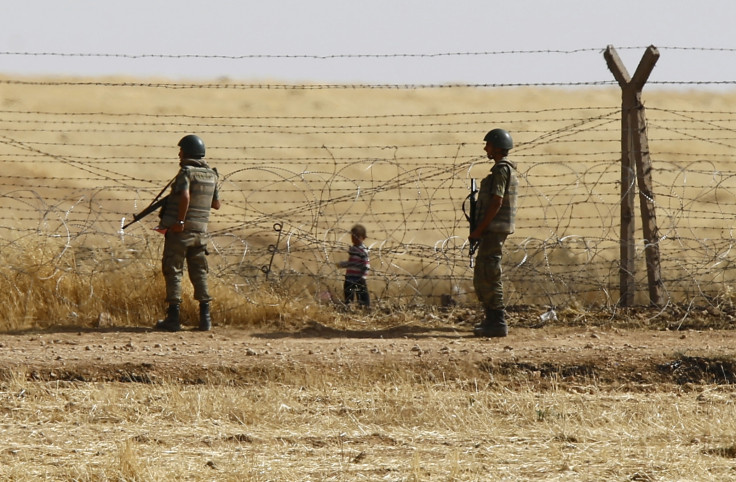 However, Kacan said, the number of NGOs which are dealing with Syrian refugees is rising in the city, which is a promising step towards further integrating them into the social tissue.
"But, I hope all Syrians who disrupted our social tissue get back to Syria once the war finishes," she added.
International Medical Corps became one of those first international humanitarian organisations to successfully register with the Government of Turkey in 2012 to support Syrian refugees in Turkey by providing health care provision, physical rehabilitation, nutrition, protection, gender-based violence services, mental health and psychosocial support, among others.
"It would be unrealistic to suggest that there are never cases of tension between Syrian refugees and members of host communities. With the sheer scale of refugee arrivals, living conditions are often squeezed and the emergence of rivalry and jealousy is not surprising," Richard Martin from the International Medical Corps said.
"Such events by their very nature stretch essential infrastructure such as health care, housing and policing and inevitably disrupts the status quo. That is why our focus on providing support to Syrian refugees that – in turn – helps alleviate pressure on the already stretched Turkish systems and local host communities is so critical."
Ayselin Yildiz, an expert on immigration at Izmir's Yasar University, thinks that the security concerns of locals as to whether terrorists might also infiltrate the refugee flows by abusing the open border policy are crucial.
"An economic development model built on the socio-economic needs of Syrians but also responding the concerns of local people might offer the initial steps of a long-term integration policy and helps to sustain this already existing peaceful coexistence in Gaziantep," Yildiz said.
But Yildiz underlines that the city has demonstrated an exemplary hospitality, tolerance and culture of "living together", not for few months but for five years. And for this, the social support programmes and successful efforts of Gaziantep municipality and civil society organisations are exemplary.
"The already high and increasing number of refugees being hosted, the prolonged duration of stay and lack of an comprehensive, long-term institutionalised integration policy are some of the biggest challenges ahead," she said, underlying the need for a tailor-made model and successful integration policies for each region according to their unique needs and challenges.