Selahattin Demirtas: Turkey's 'Kurdish Obama' on celebrity, Syria, Abdullah Ocalan and the PKK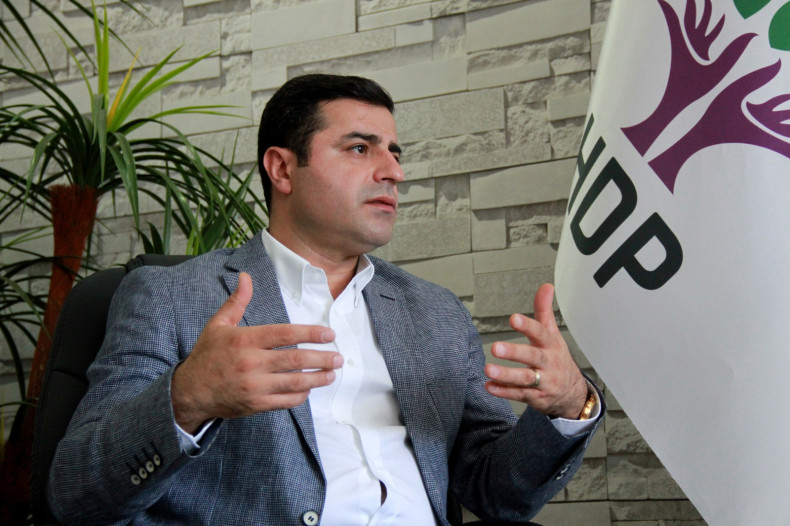 On the streets of Diyarbakir in the Kurdish heartland of southern Turkey, Selahattin Demirtas cannot walk the streets without being swamped by locals begging him to take selfies with them.
On the rare occasion when the 42-year-old Kurdish leader – whose Peoples' Democratic Party (HDP) won 13% of the vote in June's elections – is able to go out without his bodyguards, he dons a hat and sunglasses to avoid being recognised on the bus.
"I came from the public world and I'm still part of it – I want to do my own grocery shopping," he joked.
In a few short months, Demirtas has gone from an admittedly already popular Kurdish politician to one of the most visible men in Turkey. In securing 13% of the vote, the Kurds made history by passing a 10% threshold for political representation that was instituted precisely to keep them out of the government.
In an exclusive interview with IBTimes UK, Demirtas said key to this was presenting a broad-based appeal that transcended the divide between Kurds – who make up around 20% of Turkey's population – and Turks of all political stripes, from conservative Muslims to the far left.
"We tried to create hope. We opted for a discourse that underlines the need for living together and do away with deeply rooted [fear and...] divisions," he said.
Given Demirtas's political rhetoric, youth and oratory skills, it is little surprise that he has been dubbed the "Kurdish Obama". And like Barack Obama's 2008 election, Demirtas's rise has a distinct feeling of zeitgeist.
For three decades, Turkey's Kurds have been locked variously in either rebellion or all-out war with the Turkish state and a party such as the HDP winning seats in parliament would have been unheard of even a few years ago.
"During the whole Republican era, advocating for the rights of the Kurds has equalled with separatism and treason. Some Kurdish politicians also made mistakes in the past and fed into such prejudices. But now we have to move on," he said.
Born in a Kurdish majority town in south-eastern province of Elazig, Demirtas is the second eldest in a family of seven children. After graduating in law from Ankara University, Demirtas worked as a human rights lawyer in Diyarbakır and started his political carrier in 2007 in pro-Kurdish Democratic Society Party (DTP).
His projection of a modest family image with his wife Basak, a teacher, and their two daughters, has pleased his supporters, as has his mastery of the saz, a traditional Turkish musical instrument, which he played live on TV in the run up to the election. He is affectionately known as "Selocan" ("My darling Selo").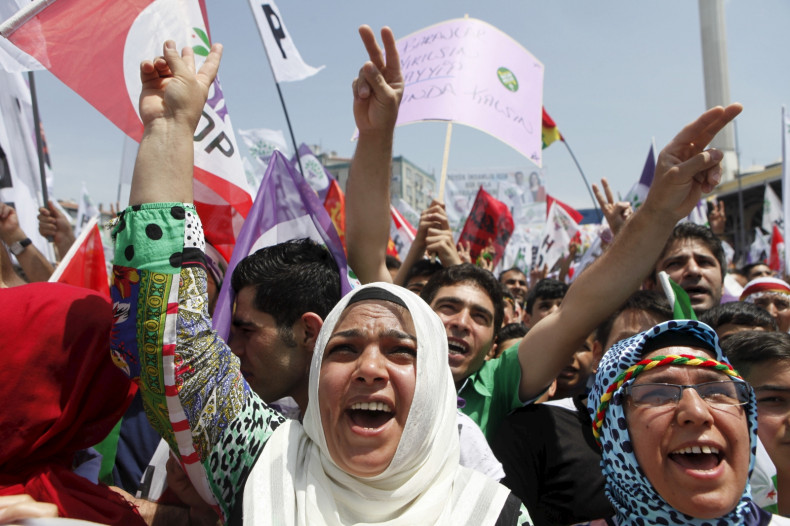 His broad liberal ideology has cemented his appeal with both Kurds and those on the centre-left and left, many of whom have been angered by President Recep Tayyip Erdogan's increasing authoritarianism. Demirtas wants to see a new constitution drawn up during the next parliament.
"We have to clear the road towards a new constitution: [...] the election threshold should be abolished. The barriers to freedom of expression and [restrictions on the] media have to be lifted. A law on political parties should be amended to eliminate the authoritarian leadership. Women should get more freedom," he said.
But the Kurdish question in Turkey remains paramount. In late February, government and HDP figures met in Istanbul to draw up a 10-point agreement to end the 30-year Kurdish insurgency.
Meanwhile, Abdullah Ocalan – the imprisoned leader of the Kurdistan Workers' Party (PKK), which is branded a terrorist organisation by Turkey – was expected to call on the PKK to lower its weapons once and for all.
The stage looked to be set for real progress until the build up to the elections, when Erdogan U-turned on the Kurdish issue in an effort to draw votes from the nationalist right.
In mid-March, he claimed there was no longer any Kurdish problem and declared the negotiations inappropriate, and a stalemate has been in place since.
It is Demirtas's view that there is a division between Erdogan and a few key allies and his own party about the peace process, with the latter wanting it to be solved. But the HDP leader also has reservations about how negotiations took place, and would like to see more transparency if and when the talks begin again.
"The process should not be held behind closed doors. Its biggest part should be rendered transparent, along with monitoring groups and more presence of the parliament which should warn the parties about eventual mistakes," he said.
One key question is the role of Ocalan, the Kurdish icon who is a prisoner on the island of Imrali, south of Istanbul. He has made a number of tentative steps for the PKK – many of whom are currently exiled in Syria and Iraq – to end its conflict with the Turkish state.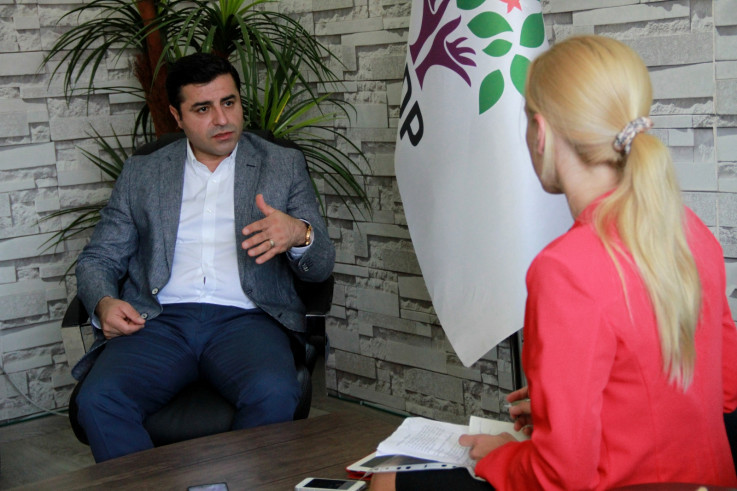 IBTimes UK reporter Menekse Tokyay interviews Demirtas in Diyarbakir
"Ocalan [...] has the sole power on PKK to convince it [to] disarm. We cannot achieve [this] on our own because we don't have any hierarchical and organic relationship with PKK," Demirtas said.
But the HDP will continue in its role of maintaining communication channels between Ocalan, the PKK in exile and the Turkish government in Ankara.
It is an interesting predicament for Demirtas, whose own brother, Nurettin, was jailed for being a PKK member and is currently in exile in Iraq. Demirtas said he had not spoken to his older sibling"in a long time" but that Nurettin, like many PKK members, was currently fighting Islamic State (Isis) alongside Kurdish forces.
A major sticking point between Ankara and the Kurds has been both the continued imprisonment of Ocalan and the status of PKK exiles once a peace deal is signed. The war between the Kurds and the Turkish state saw 40,000 casualties and while there is some appetite for an amnesty for former fighters, it is a divisive issue in Turkey.
Then there are those Kurds, like Ocalan, who remain in Turkish jails, estimated at around 4,800.
Demirtas wants the Turkish parliament to prepare a law to identify the legal mechanisms for both political prisoners and exiles and help them to be integrated into social and political life. "Amnesty is not everything, but it is not also nothing," he said, pointing out the risk that a general amnesty could hurt the public.
Similarly, the HDP does not consider Ocalan's freedom a precondition to launch a peace process. They do, however, want to see the restrictions on the former PKK leader eased if he continues to play a role in ending the conflict.
"If a serious responsibility is laid on his shoulders during the process, it would not be fair and ethical to keep him in complete social isolation. I don't specifically suggest any physical improvements, but AKP should stop deciding who and when people can visit him," he said.
The HDP has ruled out a deal involving greater rights for Kurds in return for their support for Erdogan's aspirations for a constitutional change. On 17 March, Demirtas delivered the shortest-ever parliamentary speech of Turkish political history by announcing: "Mr Erdogan, as long as HDP supporters exist in this land, you will never achieve your ambition of becoming executive president."
But he has also suggested that if all other coalition options fail, the HDP will "discuss a provisional option that would carry Turkey to a new election".
"We will not let any chaos prevail in the country," he noted. "But, we consider early elections as the most rational option. We should not fear of it. Each of us will be harmed if Turkey continues to be ruled by political animosity and anger."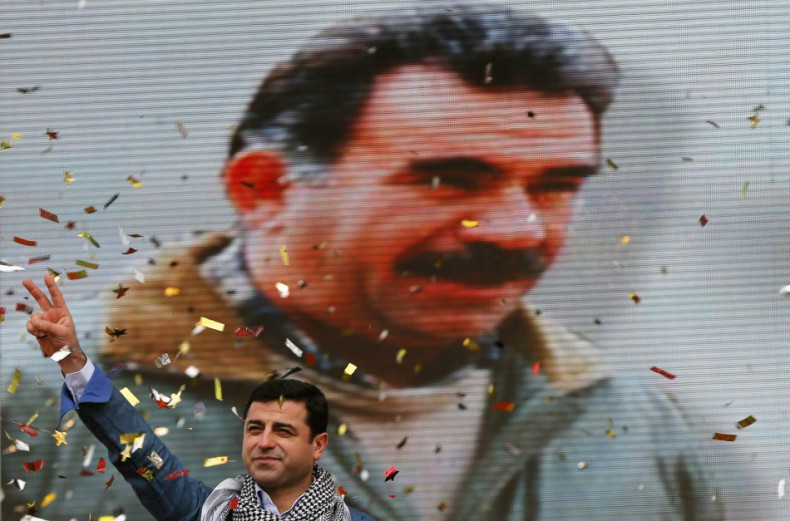 One major bone of contention is Turkey's current policy towards the Syrian Kurds – which it considers a security threat due to the fact that the Democratic Union Party (PYD) is affiliated with the PKK – which is also causing serious concerns with the HDP.
As the PYD has expanded its power and advanced south toward IS's de facto capital Raqqa after pushing it from Tal Abyad, Turkey has sent additional troops and tanks to its Syrian borders. This has led to speculation that it may create a buffer zone within Syria, despite the fact that the Kurds are mounting a successful fight against IS.
This only reinforces Turkey's "Kurdish phobia", says Demirtas. "When IS announced a caliphate in the region, the Turkish government was not alarmed; but when Kurds began defeating IS and repelling them from their own territories, that fear has resurfaced," he said.
Erdogan recently declared that he would never allow the creation of an autonomous Kurdish state in northern Syria.
Demirtas thinks Turkey should establish strategic and long-term ties with all the communities living in the region, rather than opting for a policy favouring Sunni radical groups.
He said: "Such a relationship is beneficial to both sides and will help Turkey in overcoming its Kurdish phobia. [...] The support it has given to Sunni radical groups from the onset of the civil war [has caused] Turkey [to] lose its credibility over any mediation role within the Syrian conflict."