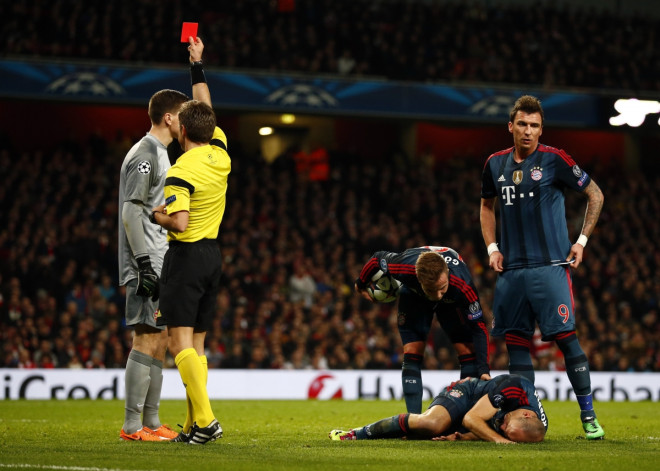 Arsenal goalkeeper Wojciech Szczesny and Manchester City defender Martin Demichelis would been put in the sin bin instead of being given red cards after giving away penalties in their respective Champions League last 16 ties, under new rules proposed by Uefa which will be debated at the International Football Association Board meeting in Zurich next week.
Among the rule changes under consideration include the introduction of sin bins for 10-15 minutes and a change to the law which instructs referees to dismiss players who concede a penalty by denying a goalscoring opportunity.
Uefa are lobbying for the change following scathing criticism from across the sport to the "triple punishment" which substantially impacted on Arsenal and City's defeats to Bayern Munich and Barcelona this week.
European football chief Michel Platini said: "I would make it like rugby, punishing the offender with 10 or 15 minutes out of the game,"
"It is an idea. Now it needs to mature and see if it really is good for the game. It is a proposal to be explored."
Fifa president Sepp Blatter is also said to be in support of the introduction of the sin bin, which would be the latest innovation in football following goal-line technology being utilised in 2012.
Sin-bins have successfully been utilised in rugby, with players forced to sit out the game for 10 minutes after either committing a serious infringement or for being continually penalised.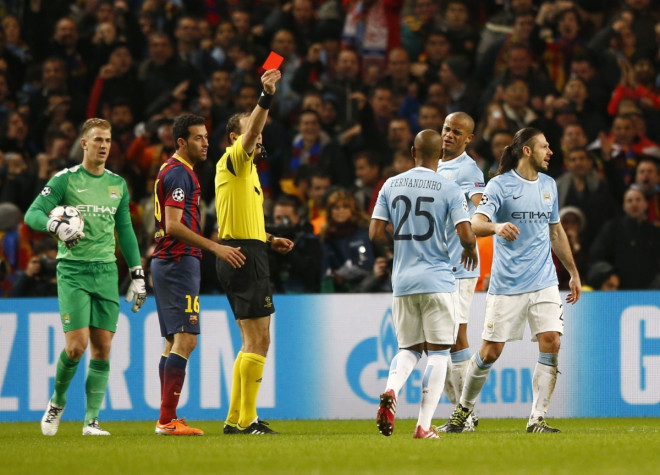 The IFAB is made up of Fifa and the four British home associations and next meets on 1 March with these potentially game-changing innovations on the agenda.
Welsh FA chief executive Jonathan Ford said: "Sin-bins have been mooted in the past and there is a trial going on in Dutch football which has generated a fair amount of interest so one would expect that it will be one of topics the new advisory panels take up.
Scottish referee boss John Fleming added: "I'm always open to debate on ways to improve the game and if the sin-bin is trialled at the appropriate levels and evidence gathered to prove it works I'll be all for it.
Debate regarding the "triple punishment" rule was reignited after separate incidents in Arsenal and City's Champions League matches which played a significant role in the final result and leaves the Premier League duo on the brink of exiting the competition in the second round.
Jamie Carragher, a European Cup winner with Liverpool in 2005, told Sky Sports: "With the rules today, it is a red card. I am not saying that it is not. I would like to see it changed. The wording of the ruling is, 'denying a goalscoring opportunity'. Now you get that when you get a penalty.
"If somebody is about to roll the ball in the net and someone takes him out, it should be a red card. Of course it should. These are the biggest games now in world football.
"A top Champions League game has become a training session. That is what we have had and I am not saying it just for us, but for everyone, for coaches and players. If you just got a penalty for it, I think we would all agree it would make the game a lot better."