Luxury Swiss watchmaker Tag Heuer has revealed its new Android Wear smartwatch, the Connected Modular 45.
Coming 18 months after Tag's first smartwatch, the Connected, the new model includes a fully modular design which lets buyers configure the watch exactly how they want. The case, lugs, straps and clasp can all be exchanged for replacement of a different colour, finish or material.
But the biggest news about the new Tag Heuer is how the entire case can be swapped out for a traditional, mechanical movement. Being assembled in Tag's factory in La Chaux-de-Fonds, Switzerland, the new watch carried the 'Swiss Made' stamp of approval.
Owners can spec the strap, clasp and lugs how they want, then switch the digital, Intel-powered case for a mechanical Tag Calibre 5 or chronograph Tourbillon Heuer 02-T movement whenever they like; switching takes just a few seconds. In all, Tag says the watch can be configured 150 different ways using the company's online studio.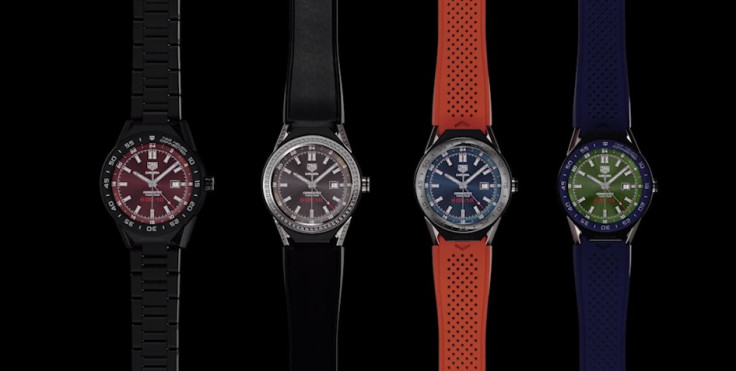 Tag Heuer chief executive Jean-Claude Biver said: "There is no limit in the modularity, no limit in the materials...it is a no-limit watch, a no-limit concept, that is exactly what the customer wants." Biver also suggested Tag could in the future over four, five or six mechanical movements to fit the Connected Modular 45.
Behind the sapphire crystal front, the watch has a 45mm wide, 400x400 resolution circular touch screen with a pixel density of 287 per inch. The watch is water resistant to 50 meters and new for this model is GPS for tracking runs, Wi-Fi for connecting to the internet and NFC for making contactless payments. The watch is powered by an Intel Atom Z34XX processor and has 4GB of internal storage; battery life is expected to be between 24 and 30 hours per charge.
The watch is 13.2mm thick and runs Google's new Android Wear 2.0 operating system, which includes the same apps as seen on other smartwatches from Huawei and LG. Google Assistant is also present to help answer questions, track exercise and plan your day; but along with this, Intel is busy developing its own virtual assistant for the watch, which will appear through a software update at a later date. The Intel assistant for now has no name or gender.
The 56,000 customers who bought the original £1,100 Tag Heuer Connected will see their software updated to Android Wear 2.0 by the end of March.
Tag Heuer is pricing the Connected Modular 45 from £1,400, depending on what strap and case finish is selected. A 'deluxe' box set includes the smartwatch (with a brown leather strap plus the standard black rubber one), and a Heuer-02T Tourbillon mechanical movement for £15,000.