Jay Freeman, aka Saurik, the founder of Cydia, has just rolled out a bug-fix update to patch up boot loop issues on iOS 8.3 jailbroken devices, when a user tries to terminate or kill the Cydia app via the iOS task switcher.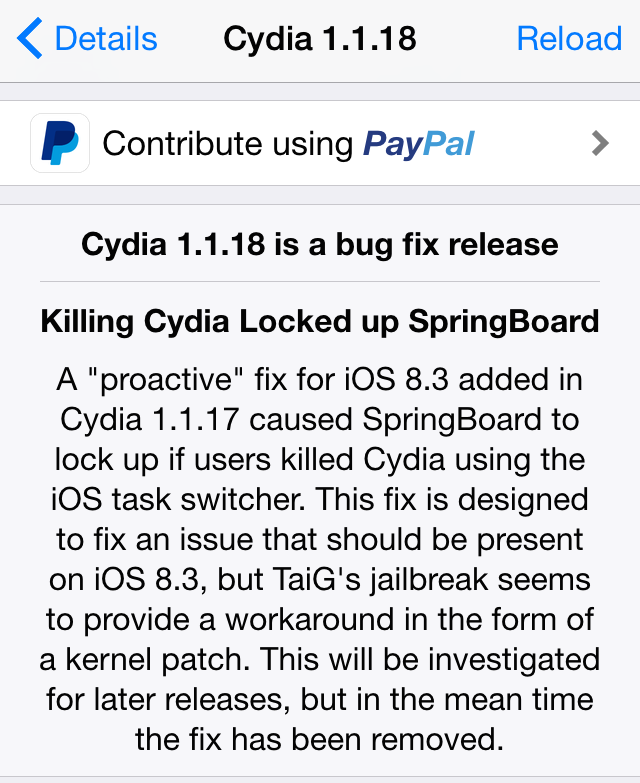 This fix is meant to make the Cydia Installer v1.1.17 compatible with iOS 8.3, and also resolve an issue where Cydia would report that it 'cannot identify your device' when you try to log into your Cydia account, reports iPhone Hacks.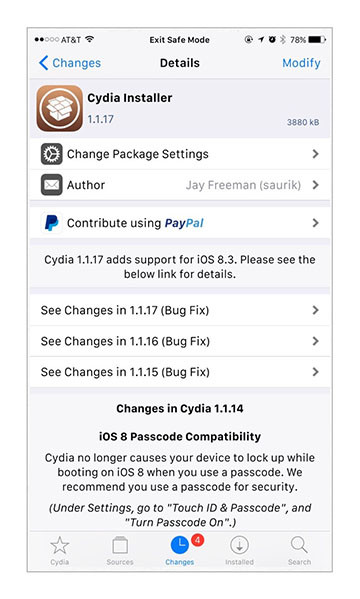 Several users have reportedly complained that the issue kicks off soon after jailbreaking their device on iOS 8.3 with the TaiG's v2.0.0 jailbreak tool.
If you are among the affected users with iOS 8.3 TaiG (2.0.0) jailbreak installed on your device, it is recommended that you do the Complete Upgrade immediately (this will install the Cydia 1.1.17 update).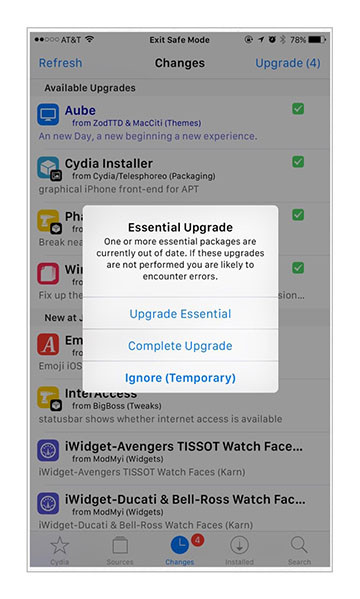 This can be accomplished by tapping on the Complete Upgrade button in the Essential Upgrade popup window, once you have successfully jailbroken your device on iOS 8.3.
It must be noted that the fix with Cydia Installer v1.1.18 is aimed at resolving another problem (aka kernel patch to fix Cydia Substrate issue) and will be released shortly by the TaiG developer team in its forthcoming jailbreak update.
Nevertheless, all users jailbroken on iOS 8.3 are advised to install the latest Cydia Installer update (v1.1.18) as soon as possible, even if they have not encountered these issues with Cydia.
Note: To download the latest Cydia update, simply launch Cydia and hit the Refresh button. You will automatically get a prompt to install the update.
Here's the complete change log for Cydia 1.1.17 update:
Update Cydia to Support iOS 8.3
On iOS 8.3, Cydia would report that it "cannot identify your device" while trying to access your account. This was due to changes on iOS 8.3, and has been fixed.
Support file:/// Repository URLs
Recent versions of Cydia have rejected "local" repository URLs. This was due to an overly-limited filter on acceptable URLs. You can now again use local repositories.
Also, check out the complete release notes for the Cydia 1.1.18 update:
Killing Cydia Locked up SpringBoard
A "proactive" fix for iOS 8.3 added in Cydia 1.1.17 caused SpringBoard to lock up if users killed Cydia using the iOS task switcher. This fix is designed to fix an issue that should be present on iOS 8.3, but TaiG's jailbreak seems to provide a workaround in the form of a kernel patch. This will be investigated for later releases, but in the mean time the fix has been removed.