Taiwan has cast a nervous eye as China's first aircraft carrier, the Liaoning, along with its convoy, sailed into Taipei's air defence identification zone early on Wednesday (12 July). The "combat ready" warship was on its way back from Hong Kong where it had made a five-day port call.
The Liaoning left Hong Kong at about noon on Tuesday and entered Taiwan's defence zone by 2.40am on Wednesday, the island's defence ministry said. It added that Taipei was closely monitoring the movement of the carrier, and that there was no cause for alarm.
The vessel sailed in a northerly direction via the western side of the Taiwan Strait, Reuters cited the ministry as saying. But it also clarified that it did not detect any abnormal activity in its airspace, although it is not clear when the convoy is expected to leave Taiwan's air defence zone.
Taiwan reportedly scrambled jets and naval vessels to shadow the movement of the Liaoning, according to the South China Morning Post.
"We have conducted overall surveillance and made necessary preparations for [the Liaoning's passage] in line with the emergency regulations," a ministry statement said.
It is believed to be the fourth time that the Liaoning has sailed near Taiwan. China considers Taipei as its breakaway province and has always defended the passage of its vessel as routine drills.
The Soviet-built vessel had also entered the Taiwan Strait earlier this month when it was en route to Hong Kong. The Liaoning docked in the semi-autonomous city-state as part of the anniversary celebration to mark 20 years since the Asian financial hub was handed back to mainland China, ending 156 years of British colonial rule.
The carrier group conducted an aircraft launch and landing training after wrapping up its visit to Hong Kong, Reuters reported.
The aircraft carrier and its fleet were also open to the public in Hong Kong, with the city's compatriots learning more about the Chinese military's accomplishments.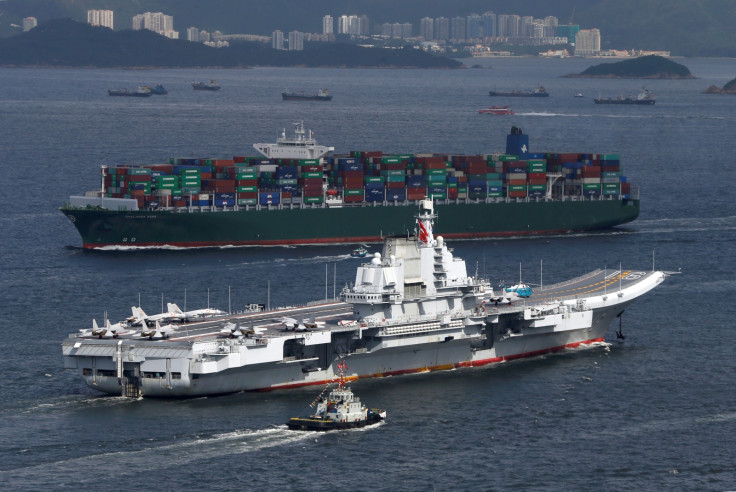 The Liaoning's fleet included a number of shipboard J-15 fighter jets and helicopters.
Accompanied by two guided-missile destroyers CNS Jinan and CNS Yinchuan, as well as guided-missile frigate CNS Yantai and other ships from its strike group, this was the first time the Liaoning had docked in Hong Kong.
The Liaoning, whose home port is in northern China, left Shandong province on 25 June.
China has never renounced the use of force to bring Taipei under its control, but since Taiwanese President Tsai Ing-wen took office in May last year, Beijing fears the democratic leader may seek independence for the self-ruled nation.