Taiwan's President Tsai Ing-wen has called on Beijing to change its attitude and extend goodwill in its approach towards the self-ruled island.
According to an interview published by a major Taiwanese daily, The United Daily News, on Wednesday (3 May), Tsai said stable cross-Strait relations would not only benefit her country, but also China. The Taiwan Strait is a 180km body of water that separates the two countries.
Tsai said the international situation was changing and that it was not Taiwan's responsibility alone to make efforts to maintaining peace and stability in the region. She called on China also to contribute towards cordial bilateral relations.
Tsai, who has irked Beijing by not accepting the 'one China' policy, added that she wants to maintain peaceful relations with Beijing. However, she does not want to be cowed by Chinese pressure on her pro-democracy government, Tsai was paraphrased as saying in the front page article.
The newspaper in which Tsai's interview appeared is regarded as taking an editorial line that supports her main opposition.
While Tsai refused to mention the 'one China' principle during her inauguration in May 2016, she has now assured that she would "maintain the status quo".
The principle recognises that there is only one China, but it gives scope for each side to interpret which country rules it – China or Taiwan. The policy was agreed to by the previous Nationalist government.
China considers Taiwan its breakaway province and relations between the two sides have worsened in the past one year, mainly because of Beijing's distrust of Tsai's pro-democracy party. China also officially cut off communication channels with Taipei soon after Tsai took charge as the first female president of Taiwan.
China's ruling Communist Party's annual congress is scheduled to be held later this year during which President Xi Jinping is expected to further consolidate his powers. When the Taiwanese daily asked Tsai about how she saw the future of Sino-Taiwan ties after this meeting, the president said she was fully prepared for all possible outcomes.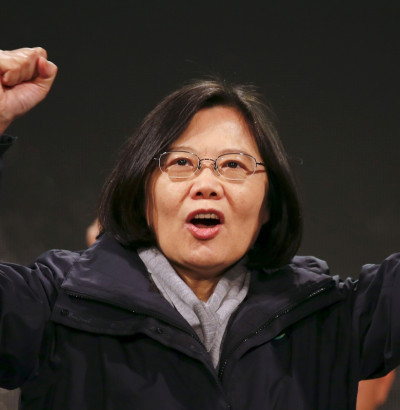 This is Tsai's second interview in less than a week and it is thought to be aimed at preparing the ground before she is expected to deliver a speech on 20 May when she completes one year in office.
During an interview with Reuters last week, Tsai also urged her Chinese counterpart Xi Jinping to be flexible with Taipei maintaining diplomatic relations with other major countries. She said Xi should act "responsibly" to maintain peace in the Asia-Pacific region.