China is reported to be inching a step closer to military dominance in the South China Sea as it has continued to build missile shelters on disputed islands there, a US-based think tank has reported on Thursday (29 June).
The new facilities are being built on Fiery Cross, Mischief and Subi Reefs in the Spratly archipelago. It paves the way for Beijing to deploy an array of military assets in the region, said the Asia Maritime Transparency Initiative (AMTI), part of Washington's Center for Strategic and International Studies.
"Beijing can now deploy military assets, including combat aircraft and mobile missile launchers, to the Spratly Islands at any time," it said.
The think tank has released new satellite images that show missile shelters and radar and communication facilities being built on the disputed island.
Analysing the pictures, the AMTI said in February that it had identified eight hardened shelters with retractable roofs at each of the three reefs, which according to a Reuters report would house long-range surface-to-air missiles.
China now has built four more of them at Fiery Cross Reef alone. This brings the total of missile shelters across the islands to 12 in the reef. However, this development is not yet seen at Subi or Mischief reefs, but China has built fighter jet hangars and surveillance arrays on these two islands as well.
"China's three air bases in the Spratlys and another on Woody Island in the Paracels will allow Chinese military aircraft to operate over nearly the entire South China Sea," the centre said.
The latest militarisation is sure to leave the Pentagon fuming as it has always been accusing China of heavily militarising the crucial waterway, through which $5tn (£3.9tn) trade passes each year. Beijing claims nearly all of the South China Sea where Taiwan, the Philippines, Brunei, Malaysia and Vietnam have also overlapping claims.
"We oppose China's artificial island construction and their militarisation that features in international waters," US Secretary of State Rex Tillerson said early June during his visit to Sydney.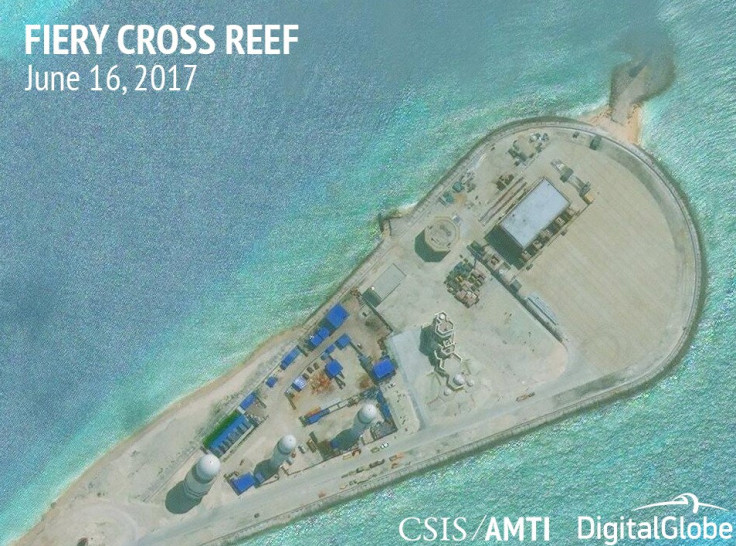 The think tank said that Beijing is also busy expanding its already signification communications and radar capabilities on the man-made islands in the South China Sea.
The satellite pictures also showed a very large antennae array being installed on a small outpost at the southern side of Mischief Reef, apparently, in a bid to boost the country's ability to monitor the surroundings, the AMTI said.
It also pointed out that this development should be of concern to the Philippines due to its proximity to an area that Manila claims as its territory.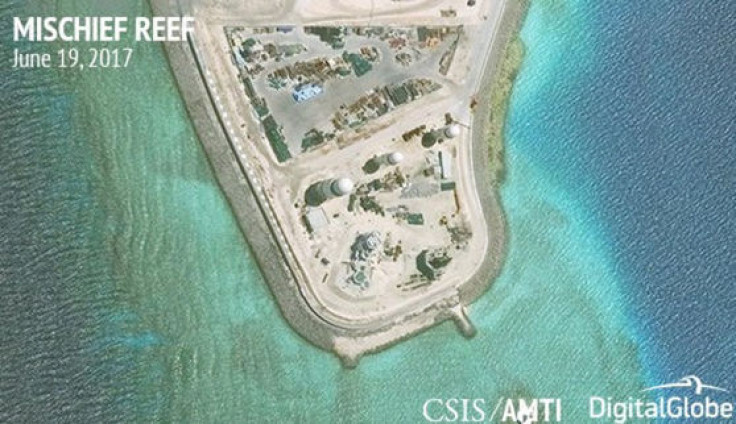 In addition, a large dome was also recently installed on Fiery Cross, while another identical building is under construction at Mischief Reef, it said. Two more domes, with one being smaller, is also reportedly coming up at Mischief Reef, which indicates that "it could be connected to radar for any missile systems that might be housed there," the think tank added.
Washington has estimated that Beijing has added more than 3,200 acres of land on seven reefs and tiny isles in the disputed international waterway.
To counter China's claims, the US has been regularly conducting freedom of navigation operations in the South China Sea. But every action by the US forces has angered China, and the current joint drill with Australia is also likely to trigger a response from Beijing.