Taiwan scrambled jets and naval vessels on Sunday (2 July) as a fleet of Chinese warships led by Beijing's first aircraft carrier, Liaoning, sailed through the Taiwan Strait.
Liaoning and its fleet are en route to Hong Kong to mark 20 years since the Asian financial hub was handed back to mainland China, ending 156 years of British colonial rule. But the fleet is reported to have not intruded into Taiwan's territorial waters.
The sailing is seen as adding to tensions in the region which have escalated after US arms sales to Taipei, the first under US President Donald Trump.
The Soviet-built carrier group, whose home port is in northern China, will make a port call in Hong Kong later this week, where it will showcase the "military might" and achievements of the Chinese naval forces, local media cited Yang Liang, spokesman for People's Liberation Army Navy (PLAN), as saying.
Liaoning's visit will be part of its trans-regional training and Hong Kong compatriots are expected to learn more about PLAN's accomplishments, Liang added.
The aircraft carrier and its fleet will also be open to the public in Hong Kong.
Liaoning's fleet includes several guided-missile destroyers and missile frigates, as well as a number of shipboard J-15 fighter jets and helicopters, China's CCTV reported.
The battle group entered Taiwan's air defence identification zone on Saturday, Reuters cited Taiwan's defence ministry as saying. It was sailing west of the middle of the Taiwan Strait on Sunday (2 July).
As a result, Taipei deployed ships and jets to shadow the movement of Liaoning through the narrow body of water separating Taiwan and China, the ministry added. But it also clarified that it did not detect any abnormal activity in its airspace as the Chinese fleet is expected to leave Taiwan's air defence identification zone by Sunday evening, Taipei said.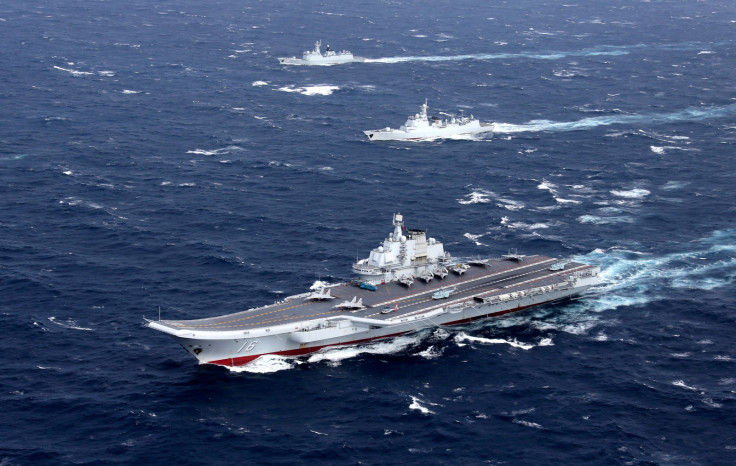 China considers Taiwan as its breakaway province, but since President Tsai Ing-wen took office in May last year, Beijing fears the democratic leader may seek independence for the self-ruled nation.
Tsai has irked the mainland by not accepting the "One China" policy but has said that she wants to maintain peaceful relations with Beijing. However, she also said that Taiwan will not be cowed by Chinese pressure on her pro-democracy government.
China has never renounced the use force to bring Taiwan under its control.