China's first and the only operational aircraft carrier, Liaoning, sailed into Hong Kong waters on Friday (7 July) to showcase the "military might" and achievements of its naval forces.
Accompanied by two guided-missile destroyers CNS Jinan and CNS Yinchuan, as well as guided-missile frigate CNS Yantai and other ships from its strike group, this is the first time Liaoning has docked in Hong Kong. It is part of anniversary celebration to mark 20 years since the Asian financial hub was handed back to mainland China, ending 156 years of British colonial rule.
The city's authorities have ordered a no-fly zone at the ships' docking port from Friday through Tuesday (11 July). The carrier was also flanked by marine police craft and a locally-based Chinese navy corvette ship.
The Soviet-built carrier group, whose home port is in northern China, sailed through the East Lamma Channel, south of Hong Kong's Tsing Yi Island.
Liaoning's visit will be part of its trans-regional training and Hong Kong compatriots are expected to learn more about PLAN's accomplishments.
The aircraft carrier and its fleet will also be open to the public in Hong Kong. Liaoning's fleet also includes a number of shipboard J-15 fighter jets and helicopters, China's CCTV reported.
History of Liaoning
The 305 metre-long (1,000ft) Liaoning was commissioned into the People's Liberation Army Navy (PLAN) in September 2012 and was previously described as a "surface platform".
The ship was originally laid down as a "heavy aircraft-carrying cruiser", known as the Varyag, meant for the Soviet Navy in the 1990s, but it ended up in the hands of Ukraine.
China later bought the warship, which was an incomplete hull without engine, electrics or propeller, from Ukraine in 1998 after it was auctioned off to a Chinese company. Back then, Beijing reportedly claimed it would use the vessel as a floating casino in the future.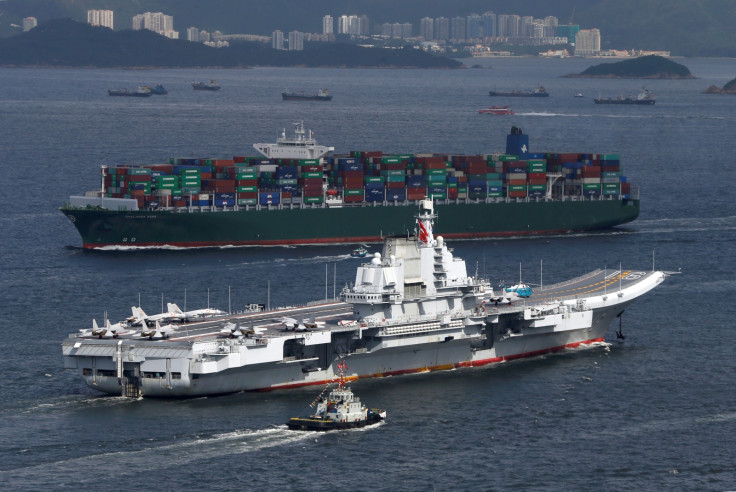 However, the Chinese army refitted it for sea service and in 2011 it confirmed that China's first aircraft carrier was under construction. The Liaoning first sailed to the disputed South China Sea in 2013 but it was not outfitted with a full aircraft complement at that time.
The PLA, in November last year, announced that the Liaoning has reached its full capacity and is not ready to "fight against enemies", although it might be several years before a carrier air regiment is fully integrated into the Chinese Navy, according to the Washington-based Center for Strategic and International Studies (CSIS).
In December, the vessel, along with fighter jets, conducted an air combat exercise in the Yellow Sea.
How big is Liaoning?
The Liaoning displaces over 30,000tonnes more than the Japanese helicopter destroyer Izumo. When compared to another Soviet-built carrier INS Vikramaditya, commissioned to the Indian Navy, the Liaoning boasts a size advantage, with a deck 20meters longer and weighing approximately 15,000tonnes more.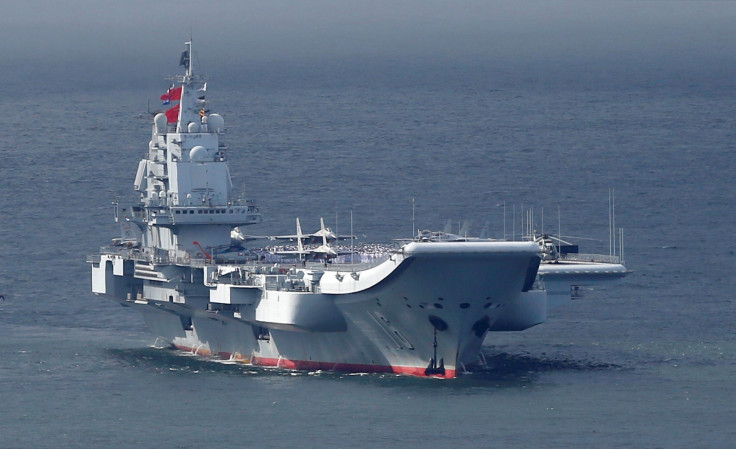 But it is reported to be far from the largest or most capable carrier in the world as the Chinese vessel falls well below the US Nimitz-class super-carrier USS Ronald Reagan. The US Navy carrier is believed to be 60% heavier and 30 meters longer, CSIS noted.
Far out-sizing the Liaoning, the Ronald Reagan, which is currently stationed with the US Seventh Fleet in Japan, weighs 97,000 tonnes.
General characteristics for Liaoning after refit
Length: 305m
Width: 70m
Displacements: 60,000 tonnes
Speed: About 30 knots
Crew: Around 2,600
Class and type: Type 001
Propulsion: Steam turbines with diesel generators
Aircraft carried:
Shenyang J-15 fighter jets
Changhe Z-18 transport helicopters, anti-ship helicopters
Kamov Ka-31 airborne early warning helicopters (for long range detection/surveillance)
Harbin Z-9D search and rescue helicopters
Source: CSIS/ AFP
When compared to UK Air Force's Queen Elizabeth, which is due to enter service in 2020, the Liaoning is 20meters longer.
"The Liaoning's air wing represents a significant leap in air capability for the PLAN, but its inherent capability is limited much like the carrier itself. The aircraft aboard the Liaoning are capable and advanced, but remain restricted primarily by the ship's aircraft-launching system and relatively insufficient amount of personnel training," the CSIS said.
Although the Liaoning's air wing can station 24 Shenyang J-15 multirole fighter jets, which is larger and more capable than Japan's Izumo, the Chinese carrier group still falls well short of USS Ronald Reagan. The American vessel has over 55 fixed-wing aircraft.
The maximum takeoff weight for a J-15 fighter jet from the Chinese vessel would be limited to approximately 62,000 pounds, analysts have estimated. It is 40,000 lesser than what the Ronald Reagan can launch.
China's second aircraft carrier
While the Liaoning's possible mission set remains unclear, Beijing considers it a symbol of China's great-power status.
At the same time, China is finishing the construction of its second aircraft carrier – a fully indigenous one with Chinese designs and technology. It will reportedly be equipped to use a ski jump for takeoff.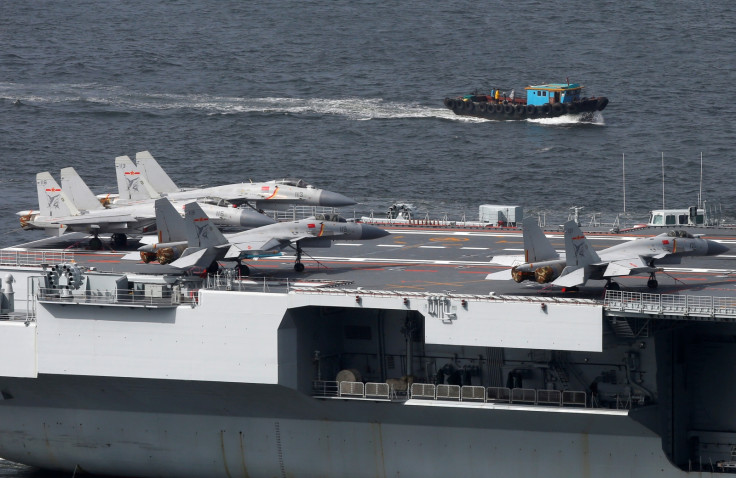 Local media reports suggested that the second aircraft carrier, likely to be named Shadong, may be based near the strategic international waterways in a bid to increase China's military capabilities as well as its readiness to deal with what the Chinese media calls "complicated situations". It is expected to officially join the navy in 2019.
Beijing is also reportedly building a third one that is likely to be based on US models. According to the Global Times, the newest aircraft carrier with the class name Type 002, which is being built in Shanghai, is likely to feature catapult technology that will allow jets with heavier load and endurance to be launched from it.
The third aircraft carrier is the latest in Beijing's ambitious warship programme that includes building at least two such ships to counter the US Navy in the Asia-Pacific region.