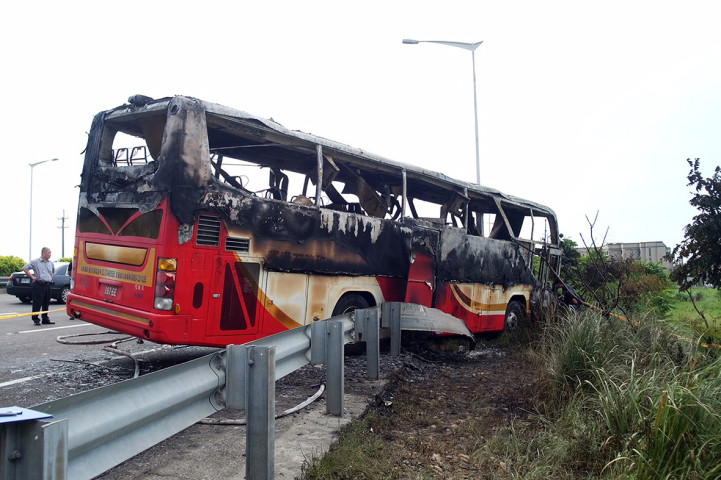 The driver of the Taiwanese tour bus, that crashed and caught fire killing all 26 people on board, including 24 Chinese tourists, was drunk when the incident happened, investigators revealed on Friday (29 July).
Prosecutors after testing the remains of the driver, who also died in the crash, said in a statement that they found alcohol concentration of about 1.075 milligrams a litre of breath, well above the permissible limit of 0.25 mg a litre.
Chief Taoyuan investigator Wang Yi-wen said: "Since clarifying the whereabouts of the driver before his death, (he was found to have) imbibed alcohol and was determined to have been driving drunk."
Investigators had earlier said that five bottles of gasoline were found in the driver's compartment and the luggage hold, raising the possibility of fuel being stored on the bus for some reason. An exit for safety was also found to be locked, which trapped people on board.
However, investigators have not yet said what made the bus emit fire before it crashed into the guard rail on 19 July. The accident took place on the highway near Taiwan's Taoyuan International Airport, when the 24 Chinese tourists were on their way to the catch a flight back home, after completing a eight day tour of the island. The othe two killed were the bus driver and a tour guide, who were Taiwanese.
Grief stricken relatives who came to Taiwan to identify the bodies questioned the officials why the victims were unable to take the exit passages on the bus when fire emitted from the bus. Chinese officials insisted for Taiwan to take measures to ensure safety of passengers from the mainland. The tragedy was the deadliest incident involving Chinese tourists.