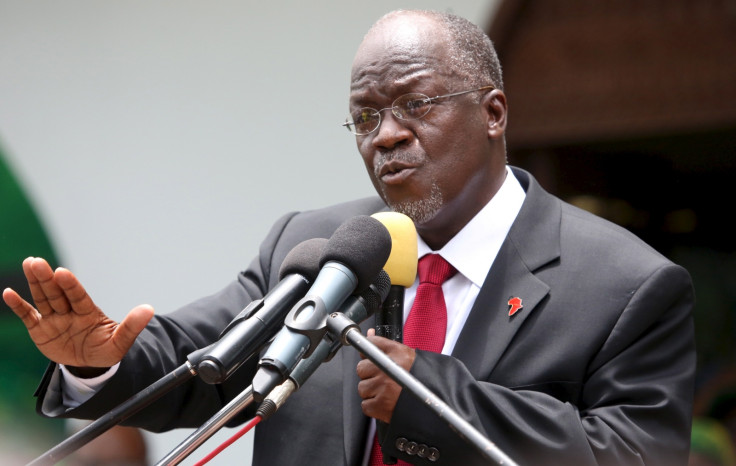 Tanzania's president is facing backlash after he claimed that female students who fall pregnant should be expelled from primary and secondary schools. The remarks made by the head of state reignited a debate on a pregnant schoolgirls ban the country issued in 2002.
President John Magufuli made the remarks during a public address on Thursday (22 June). The leader added pregnant girls should not be allowed to go back to school after they deliver, arguing they would not be able to concentrate.
"After calculating some few mathematics, she'd be asking the teacher in the classroom: 'Let me go out and breastfeed my crying baby,'" Magufuli said during a rally in Chalinze town, the BBC reported.
He also said that men who impregnate girls should be imprisoned for 30 years and put the energy they used to impregnate the girl into farming while in jail".
Tanzania has already banned teen mothers from continuing their education, in a move criticised by rights campaigners. In 2002, the country introduced a law allowing school staff to expel pregnant teens on grounds of "offense against morality".
In his speech delivered in Chalinze, Magufuli criticised rights organisations advocating for the expulsion law to be repealed.
"These NGOs should go out and open schools for parents. But they should not force the government [to take back the pupils]," he said.
"I'm giving out free education for students who have really decided to go and study, and now you want me to educate the parents?" the president continued, in reference to the fact the country abolished secondary school fees in 2014.
Reports said those present at the rally applauded the president after his remarks. However, Magufuli's comments have also angered several people, who took to Twitter to comment on the issue under the hashtag #ArudiShule (let her return).
An online petition calling on the head of state to reverse his comments has also been set up.
Mangufuli's remarks came weeks after Vice-President Samia Suluhu called for young mothers to be readmitted school, the BBC said.
Girls' education in Tanzania
According to data by the World Bank, the number of children and youths who have access to education in Tanzania has increased in recent years, and the country is succeeding in achieving gender parity, both in terms of students and teachers.
However, Human Rights Watch (HRW) said in February more than 1.5 million children in the country are still unable to access education due to, among other impediments, lack of schools in rural areas and "a discriminatory government policy to expel pregnant or married girls."
Tanzania is among the countries across sub-Saharan Africa with one of the highest rates of teen pregnancy. An estimated 8,000 girls drop out of school due to pregnancy every year, HRW said.
A report the organisation released in June, claimed that school officials in Tanzania "conduct pregnancy tests and expel pregnant students."
Nineteen-year-old Rita, from northern Tanzania, told the organisation she had been expelled from school after she became pregnant at age 17. "Teachers found out I was pregnant," she said. "I found out that no student is allowed to stay in school if they are pregnant ... I didn't have the information [sexual education] about pregnancies and what would happen."