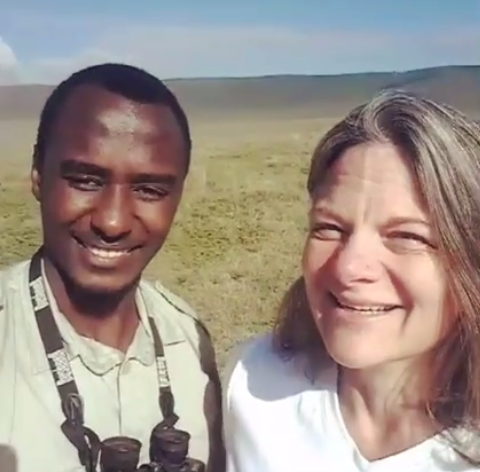 A Tanzanian tour guide has been charged with breaching cybercrime laws for wrongly translating the message of a tourist in a video posted on social media. Saimon Sirikwa was arrested earlier this month after being accused of casting the country in a bad light following the emergence of the "twisted translation" video he posted on Facebook.
The guide and the tourist, who remains unnamed, later said in another video that they were joking in the original one.
However, Sirikwa, who works for the Serengeti National Park in northern Tanzania, was charged under the country's controversial law.
He was not asked to plead and has been remanded in police custody, the BBC reported.
According to the cybercrime law, implemented in 2015, people found guilty face a fine of minimum $1,300 (£1,000) and a jail term of at least three months for publishing false, deceptive or misleading information on a computer system.
Critics of the law say it can be used to undermine freedom of speech.
In the original video posted on Sirikwa 's Facebook page, the tourist praised the country and its people, describing Tanzanians as "absolutely wonderful".
However, Sirikwa wrongly translated the message into Swahili and said, among other things: "You Tanzanians complain/cry a lot about hunger. Everyday you cry about hunger when you have flowers at home. Why don't you boil the flowers and drink [them]. It is not good to cry/complain about hunger."
In the second video, also posted on Sirikwa's Facebook page, the unnamed tourist said: "We were just playing around, Simon was just being a comedian. We were doing a little joke on Facebook. It was just a joke."
While apologising, Sirikwa said in Swahili: "Just the way you know it in the initial video, I have been a tour guide for ten years. cannot tolerate any bad talk against my country, whoever downloaded the video from my Facebook account then shared it on WhatsApp group did not do the right thing.
"The video was just a comedy, it was for fun, and I know there are people who are offended by this video. It was not my intention to hurt anyone, I apologize to my fans and followers, continue receiving entertainment, but just note my offensive jokes were misunderstood. Thank you," he concluded.