Tanzania's 'ghost people': Putting an end to albino persecution
Grave digging for albino corpses and sale of body parts highlight that more needs to be done to tackle violence against persecuted minority.
Tanzania is slowly making progress in combating bullying and violence against albinos, but recent incidents of grave-digging have highlighted how more needs to be done to stamp out the persecution once and for all.
In Tanzania, those suffering from the condition are known as "zeruzeru" ("zero zero" in Swahili) and referred to as "ghosts" or "ghost people". There are widespread myths that albinos have magic powers and they are being hunted for their body parts that can bring in up to $75,000.
What is albinism?
A genetic condition characterised by the complete or partial absence of pigment in the skin, hair and eyes.
Tanzania has a much higher rate than in any other nation, where it affects about one in 14,000, compared to one in 20,000 in the West.
Tanzania is one of the countries known to be involved in the cross-border trafficking of the body parts of persons with albinism, alongside Burundi, Democratic Republic of the Congo (DRC), Kenya, Mozambique, Malawi, South Africa and Swaziland.
NGO Under The Same Sun (UTSS) has documented 76 killings of albinos, one abduction and 21 grave violations. Seventy-two people have survived attacks but all of them, the organisation reported, "are deeply traumatised and some severely mutilated".
Besides attacks on living albinos, Shantha Rau Barriga, disability rights director at Human Rights Watch told IBTimes UK about a troubling trend in which burial sites are disturbed and the bodies of albinos snatched.
In the latest incident, UTSS reported an attempted grave robbery at the burial site of a woman with albinism called Sister Sisala Simwali in Mumba village in south-western Tanzania. Simwali, who died of malaria in February 2008 at the age of 37, was buried near her home.
In January, villagers told police of the failed grave robbery. Six people were involved.
"After waiting for a while the villagers decided to ambush the crooks. Four managed to escape, but two were surrounded," UTSS said in its report, quoting William Simwali, the brother of the victim.
"The criminals had dug deep down and were about to reach the coffin when they were seen. Fortunately, the sister's remains were untouched because the coffin was buried more than 7ft deep and was covered with reinforced materials."
A suspect was beaten to death and thrown back into the pit. A second, who was was beaten and handed over to the police, is in custody. A manhunt is under way for the four who escaped.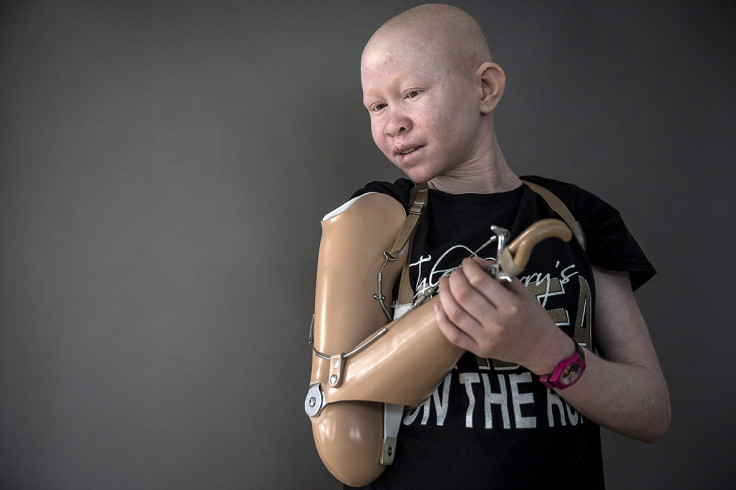 Pendo Sengerema, 15, puts on her prosthetic arm. She was mutilated in an attack
Carlo Allegri/Reuters
In Tanzania, only 2% of albinos will celebrate their 40th birthday
"What we've found is that people are living in constant fear," Rau Barriga explained, adding that a lack of education and programmes for people with albinism means that, in Tanzania, the average lifespan of a person with albinism is around 30 years - under half the normal life expectancy of 64 years.
Although the medical condition itself does not affect life expectancy of albinos, Unicef and UTSS said that, besides attempts on their lives, a lack of adequate protection against the sun means that their lifespan is "grossly shortened" by skin cancer.
"In Tanzania for example, only 2% will celebrate their 40th birthday. Many die much younger," the NGO said.
"What's critical that needs to happen in Tanzania is that there needs to be enforcement of the laws but there also needs to be more investment in health services for people with albinism," said Barriga, whose organisation is embarking on a three-year project to investigate the situation of children with albinism.
"Something as simple as having affordable sunscreen, having protective hats - these are things that are not available to people with albinism. They are also not aware that they even need those things in order to protect themselves from sun, particularly since they are very susceptible to skin cancer," she explained.
After it emerged that ordinary sunscreen imported from abroad were failing tests due because it was not strong enough for high tropical temperatures, Tanzania's Ministry of Healthmoved to make a special, local ointment, named Kilimanjaro Sunscreen.
"The government is very much aware of challenges and predicaments facing people living with albinism in the country and these include lack of proper medication such as skin sunscreens and cancer treatments," President Jakaya Kikwete said in June 2015.
© Copyright IBTimes 2023. All rights reserved.