More than 100,000 people face disappointment as an online petition to recall parliament cannot be discussed until MPs return from the Easter recess. The development comes after Labour leader Jeremy Corbyn created the campaign in reaction to the Tata Steel crisis, which leaves thousands of jobs at risk across the UK.
"David Cameron must take immediate action to act to protect the steel industry and the core of manufacturing in Britain. Join me in calling for Parliament to be recalled to hold the Government to account as an urgent priority," the left-winger declared.
A cross-party group of MPs consider petitions for a debate in the House of Commons once they reach the 100,000 signature mark. But the Petitions Committee, chaired by Labour MP Helen Jones, will not return to parliament until 11 April.
However, the campaign has secured a response from the government after soaring past the 10,000 threshold. A heat map of the signatures revealed most come from communities set to be affected by Tata Steel's decision to sell of its loss-making UK business.
A significant number of people in South Wales have backed Corbyn's campaign. Around 4,000 people work at Tata Steel in the Port Talbot plant. The Indian-owned firm also has units in Trostre, Newport and LLanwern.
Cameron held an emergency meeting at Number 10 on the morning of 31 March to discuss the crisis. But the prime minister dashed hopes of nationalising the steelmaker after revealing the option was "not the answer" for the government.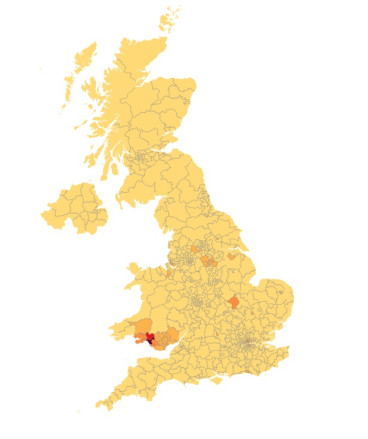 Steelworkers' union Community claimed Cameron had only added to the confusion around the crisis.
"I have just returned from Mumbai where I have been with steelworkers meeting Tata to hear an underwhelming statement from the Prime Minister," said Roy Rickhuss, the general secretary of Community.
"I am disappointed that the government still has no plan for the industry but instead seems to be adding to the confusion and mixed messages that have been the state of play for the last 36 hours.
"The Prime Minister had the gall to state that his intervention with Tata was responsible for securing a 'sales process' but the sad truth is that [business] ministers didn't take the opportunity to join us in Mumbai and the government was nowhere to be seen. Now thousands of steelworkers are faced with an uncertain future as their workplaces are put up for sale.
"This is not the third day of a steel crisis; we have been dealing with the consequences of the current global steel market for months if not years. It is astonishing that the government was so unprepared for Tata's announcement."