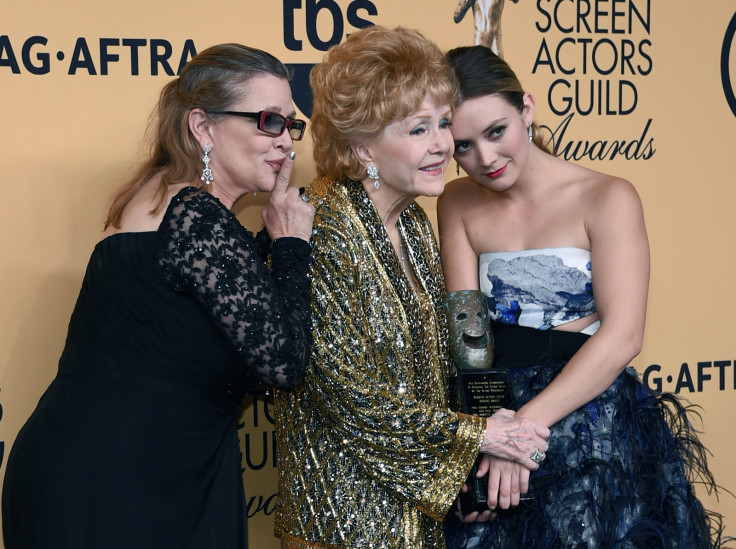 Billie Lourd endured a spell of tragedy no one should have to suffer when her mother Carrie Fisher and grandmother Debbie Reynolds died within days of each other in December 2016. Her uncle has now praised Taylor Lautner for the support he has provided.
Todd Fisher commended the Twilight star, 25, for being a pillar of strength for his 24-year-old niece during the traumatic time.
The 59-year-old told E! News: "The truth of the matter is, the guy is pretty spectacular.
"He's a really deep person, and he has supported her amazingly. He's stepped up and acted like a husband would act."
He also said that Lautner has been "just an amazing support system for" Lourd, and that he is grateful that the young actor is in her life.
Fisher added: "As any uncle, you're suspicious of the guy hanging around your niece, She's cute and all that. She's had other boyfriends, good boyfriends, but I'm certainly going to give that guy the extra look-over. I don't give a s**t what his background is."
Lourd, best known for her breakout role as Chanel #3 in the horror-comedy series Scream Queens, was first linked to her co-star in the show in mid 2016.
It was not long into their romance that her mother Carrie died on 27 December after suffering a medical emergency on a plane from London to Los Angeles. Her grandmother Reynolds suffered a stroke on 28 December and subsequently passed away in hospital.
Lautner accompanied Lourd to the double memorial on 6 January, which was held at Hollywood Hills' Forest Lawn Memorial Park.
Since their deaths, Lourd has posted tributes to her mother and grandmother on Instagram, along with a few snaps of herself and Lautner. The latest picture of the couple shows them at Stagecoach California's Country Music Festival in April. Lourd is Carrie's only daughter with talent agent Bryan Lourd.
Her godmother is Meryl Streep and she studied religion and psychology at New York University, graduating in 2014.