A rising number of conservative faith schools are actively undermining British values and thus increasing the risk of extremism in society, the head of Ofsted has warned.
Amanda Spielman, the education watchdog's chief inspector, said some schools were deliberately choosing not to meet standards to please the communities they serve.
It has seen pupils given "sexist and sectarian" literature, including books which advocate the beating of women and teach that wives should never deny their husbands sex.
Figures show 58% of the 140 independent Muslim schools inspected by Ofsted as of August this year are either inadequate or require improvement.
Meanwhile, 54% of the 60 independent Jewish schools fall in the same bottom two categories, along with 33% of the 110 independent Christian schools.
In her first annual report published Wednesday (13 December), Spielman said: "In the overwhelming majority of state-funded schools, whether faith or not, these [British] values are embedded in the school's ethos and teaching.
"However, there are also those who seek to isolate young people from the mainstream, do not prepare them for life in Britain or, worse, actively undermine fundamental British values."
She added: "Tensions between belief systems and British values create a motivation for some communities to try avoiding the educational and safeguarding standards that are expected of schools.
"While this manifests itself in different ways, the root cause is the same.
"This matters, because the British values of democracy, tolerance, individual liberty, mutual respect and the rule of law are the principles that keep society free from the radical and extreme views that can often lead to violence."
Spielman said Ofsted had encountered a rising number of "conservative religious schools" where the teaching of these values had clashed with community expectations.
She continued: "The schools are, therefore, deliberately choosing not to meet these standards."
Spielman highlighted one case where her department placed the Al Hijrah Islamic co-ed school in Birmingham into special measures for segregating boys and girls from the age of nine.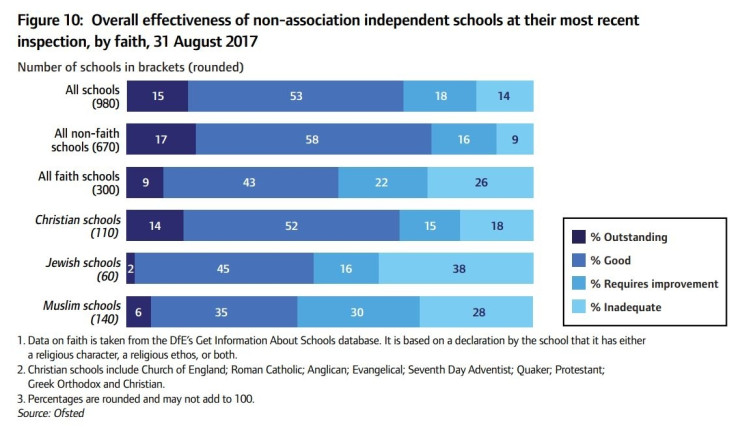 Spielman said Ofsted's said that "an ethos that completely segregates children in school and that spreads discriminatory views about women is unacceptable".
She added: "The fact that this reflects a cultural norm in that community does not mean that children can be disadvantaged in their education."
Within the independent school sector, the proportion of schools judged to be less than good has increased again this year, from 28% to 32%.
A number were faith schools, either Christian, Jewish, or Muslim, which tended to be "highly conservative", the Ofsted report said.
In some of the schools revealed to be inadequate, inspectors found unsafe and even "squalid" premises. Basic background checks on staff were also not in place, while a handful of schools were giving pupils "sexist and sectarian" literature.
The precise content of the books was thrown into sharp relief last month when a list of the worst cases of discrimination found by Ofsted inspectors was leaked to the media.
This included library books found in Islamic schools which sanction domestic violence and teach that wives should never deny their husbands sex.
Spielman told the Evening Standard: "When I see books in schools entitled Women Who Deserve To Go To Hell, children being educated in dank, squalid conditions, children being taught solely religious texts at the expense of learning basic English and mathematics, I cannot let it be ignored.
"We have a proud tradition in this country of respecting religious freedom. But there are occasions when multiculturalism can and does comes into tension with the expectation that students should be prepared for life in modern Britain."