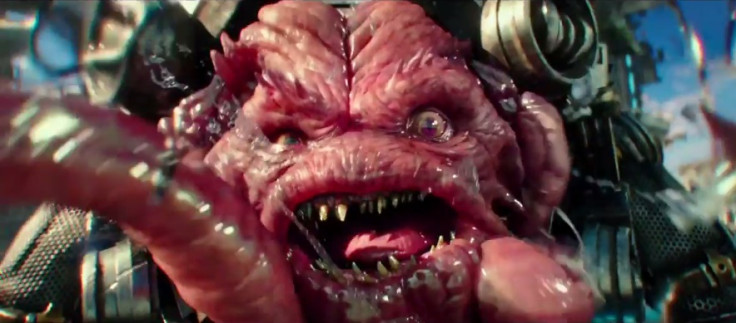 Despite only being 10 days away from release in the UK, Paramount Pictures has recast the voice of the villain in its upcoming sequel Teenage Mutant Ninja Turtles: Out Of The Shadows. Former Saturday Night Live star and Portlandia actor Fred Armisen was originally announced to be bringing baddie Krang to life back in March at WonderCon, but it has now been revealed that Everybody Loves Raymond's Brad Garrett is replacing Armisen in the role.
According to The LA Times, the reason for the last-minute swap is because Armisen's schedule was too busy to accommodate the time taken to play Krang in the post-production process. The publication also suggested that the studio's decision to introduce Armisen was a little premature and that it wasn't actually sure the 49-year-old could even do it at the time of the announcement.
"I think seeing Krang is going to be trippy," one of the stars of the movie, Megan Fox, previously told ComingSoon.net about the recognisable TMNT villain. "He's a very weird looking character. They're going to make him real. He's not a cartoon."
Producer of the eagerly-anticipated follow-up Brad Fuller said: "Krang opens up some big options but that's the challenge of the movies. Everyone comes to it with a different translation of their turtle knowledge. Someone might not know what Dimension X is...
"You used to make a movie and just think, 'This is a great movie. I love the characters. I love the setting. Hopefully, it turns out.' Now, you kind of have to think, 'If we open this door, we kind of have to walk through it.' That may be four movies down the line, but you've got to think about it. We definitely have to think more long term than we did before."
Just like the first movie, Out Of The Shadows will focus on the titular turtles, Donatello (Jeremy Howard), Raphael (Alan Ritchson), Michaelangelo (Noel Fisher) and Leonardo (Pete Ploszek), as they embark on another mission to save the world from a dangerous threat. Laura Linney, Tyler Perry and Will Arnett also star.
The film reaches UK cinemas on 30 May 2016 and US cinemas on 3 June.
For more entertainment news follow A-List on Twitter @Alistinsider