Comic book movies are battling for the top spot in the US box office, as the Teenage Mutant Ninja Turtles (TMNT) reboot takes in $25 million on its release, knocking Marvel Studio's surprise blockbuster Guardians of the Galaxy into second place.
TMNT tells the story of four ninjitsu-trained anthropomorphic turtles, and their mentor Splinter – a rat – as they battle superpowered foes.
TMNT's chart success has occurred despite of the film receiving poor reviews. Variety describes the film as "Neither a particularly good movie nor the pop-cultural travesty that some were dreading," while critic Simon Abrams, writing for RogerEbert.com, described the film as a reminder "that nostalgia is often used as a mandate for spectacularly lazy filmmaking".
Megan Fox was driven to defend the film before its release, after fans expressed concerns about what was in store for them: "Let me tell you something about those people," she said. "Those people can complain – they all go to the theatre. They're gonna love it – and if they don't love it, they can f*ck off, and that's the end of that."
History of the Turtles
Teenage Mutant Ninja Turtles first appeared in a comic book created by Kevin Eastman and Peter Laird 30 years ago.
Eastman and Laird released the first TMNT comic in May, 1984, at a comic convention in Portland, New Hampshire. The artists only printed 3,000 copies of the comic, but promoted it with full page adverts in the comic press.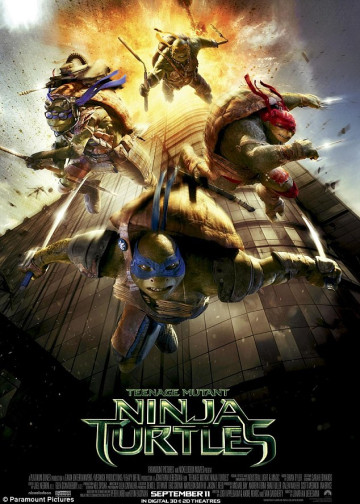 Aimed squarely at adults, the dark and violent comics quickly became popular, but Eastman and Laird continued printing limited runs of the series, which led to collectors buying issues for up to 50 times their cover price.
Merchandising soon followed, and the Turtles became videogames, toys, lunchboxes and posters, helping to make their creators millionaires.
Since its release, four volumes of TMNT comics were released by Eastman and Laird. And they continue to write new adventures for the turtles in comics published by IDW Publishing.
The adult TMNT comics were adapted into a children-friendly Saturday morning cartoon series in 1987, before they appearing in a live-action film in 1990.
That first TMNT movie went on to become a cult classic, which spawned two sequels.
Turtles causing havoc
The Turtles have had their share of controversy over the three decades they're been around.
In the UK concerns over violence, and pressure from then prime minister Margaret Thatcher, led to the 1987 TMNT cartoon being renamed Teenage Mutant Hero Turtles and being edited to remove scenes where nunchaka, martial arts weapons made famous by Bruce Lee, were used.
And recently, a poster advertising the new movie featuring the four turtles leaping from an exploding skyscraper was withdrawn after complaints it was playing on the 9/11 terrorist attacks in America.
Teenage Mutant Ninja Turtles will be slowly released worldwide over the next two months.
Watch the trailer for Teenage Mutant Ninja Turtles