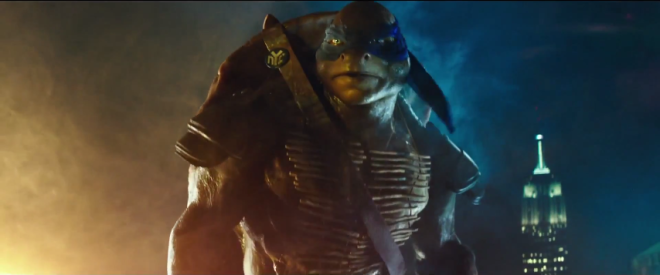 Paramount Pictures have released the first teaser trailer for this summer's live action reboot of the Teenage Mutant Ninja Turtles franchise.
Starring Megan Fox and William Fitchner as its human leads, its they who dominate the first footage - with only two of the titular turtles seen at the end of the film. Though we do get a good look.
Take a look...
Michael Bay is producing the film which has been directed by Wrath of the Titan's Jonathan Liebesman.
The Turtles themselves will be played by Noel Fisher (as Michaelangelo), Alan Ritchson (Raphael), Jeremy Howard (Donatello) and Pete Ploszek (Leonardo). They'll be joined by Danny Woodburn as Splinter. All the heroes were performed with motion capture costumes and will be CGI in the finished product.
Fox plays journalist April O'Neil, with Will Arnett providing comic relief as her co-worker and cameraman Vernon Fenwick. William Fitchner, as you can guess from the trailer, plays the villain - Shredder who it seems is tied to the origin of the Turtles in some way.
We see Leonardo and Michelangelo at the end of the trailer, leaving Raphael and Donatello in the cold.
Teenage Mutant Ninja Turtles is out on 17 October 2014.