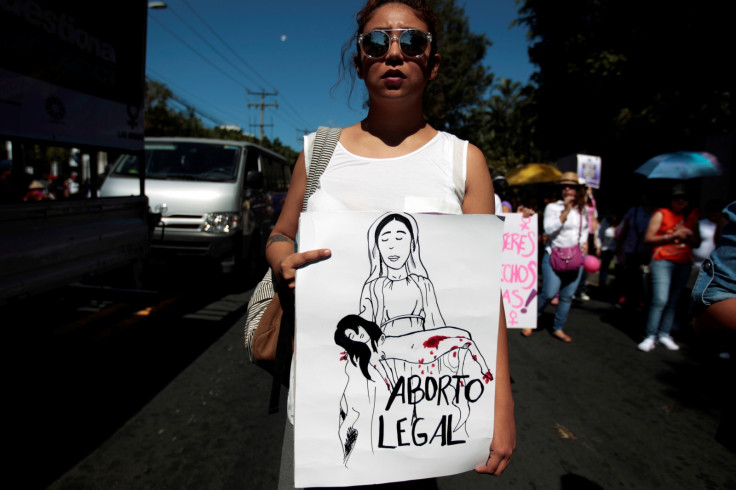 A teenage rape victim from El Salvador was sentenced to 30 years in prison for murder after her child was stillborn.
The 19-year-old girl from a small rural community in Cuscatlán in eastern El Salvador was convicted for failing to seek antenatal care, which the courts claimed amounted to murder.
Evelyn Beatriz Hernandez Cruz gave birth into a toilet on 6 April 2016 after experiencing acute back and stomach pain, the Guardian reported. The high school student was in her third trimester but was unaware she was pregnant, her defence claimed.
After suffering a hemorrhage, Hernandez went to a medical centre, where doctors discovered she had given birth. Doctors then contacted the police, who found the baby dead in the bathroom of her home, reported El Mundo.
After the dead foetus was found, she was arrested and spent a week handcuffed to a hospital bed while receiving treatment for severe anaemia and a urinary tract infection.
Hernandez, who was 18 at the time, had been raped repeatedly by a gang member for months as part of a forced sexual relationship.
According to The Guardian, medical experts could not establish whether the foetus died in utero or shortly after birth. Prosecutors claimed Hernandez failed to seek antenatal care because she did not want to keep her baby and that she threw him into to toilet in order to kill him.
The female judge agreed and went on to suggest that Hernandez could not have acted alone and that her mother may be criminally responsible. According to El Mundo, the female judge also argued that the umbilical cord had been cut and had not dislodged itself by force as the defence claimed.
"The judgement sentencing Evelyn to 30 years in prison shows how in El Salvador justice is applied without direct proof, without sufficient evidence that clarifies what a woman has done," Morena Herrera, executive director of the Citizens' Group for the Decriminalisation of Abortion, said.
Hernandez's defence attorneys expressed their frustration with the ruling and said the defence would appeal the verdict. "The judge's verdict doesn't reflect the evidence presented in court," said lawyer Dennis Munoz. "It's a decision based on morality, not the law or justice."
El Salvador has one of the harshest abortion laws in the world. According to The Guardian the Central American country is one of five countries where abortion is illegal in all circumstances. Legislators in El Salvador voted to criminalise abortion 20 years ago without any public debate or medical consultation.
Hope for an easement of the abortion ban picked up as public and medical support for a parliamentary bill allowing for abortion in certain cases rose. The bill, which would allow abortion in cases of rape or human trafficking, when the foetus is unviable or to protect the mother's life, remains in the hands of the legislative committee.