Teenager Kicks Mother On Lebanese Talk Show Bil Akeed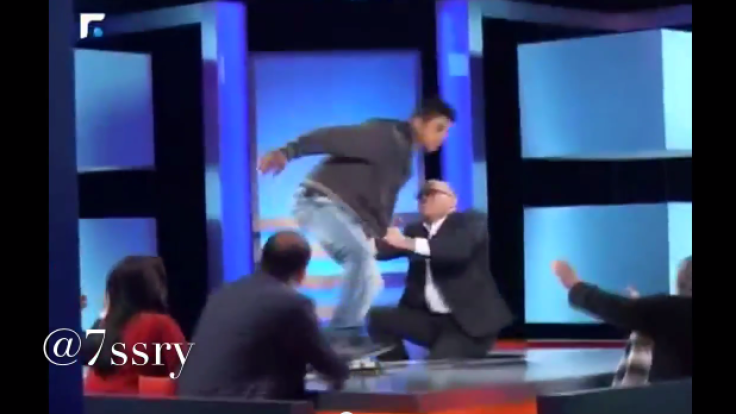 An angry Lebanese teenager has kicked his mother on live television, while participating in an Arab talk show that seeks to resolve family problems, al Arabyia news reported.
The teenager, who had not seen his mother for the past seven years, initially refused to talk to her; he was later convinced by the Bil Akeed programme's team.
Ahmed, 15, claimed his father had separated from the woman because she was abusive and violent.
The mother attempted to defend herself to Ahmed, recounting her divorce ordeal in court.
"In the court he [Ahmed's father] attacked me in front the judges and the sheikhs," she said.
Ahmed, visibly infuriated, began defending his father.
His mother replied by saying he sounded like an "intoxicated" and "drunk" teenager.
Ahmed then stood on the studio table, the only barrier between the two, and started kicking his mother.
He was quickly pulled off her by the programme's team.
At the end of the clip, which has caused controversy, the host of the programme, Zaven Kouyoumdjian, said he would resolve the issue.
Bil Akeed, which translates into English as "For Sure", is broadcast on Lebanon's Future Television network.
Violence against women is widespread in Lebanon, whose parliament recently approved a law aimed at protecting women from domestic violence.
Despite widespread approval, however, some women's rights groups have voiced anger over several amendments believed to have weakened the original text.
The amendments have altered the title of the text - which now refers to violence against the family instead of against women specifically - and removes a key clause criminalising marital rape.
Campaigners say one woman is killed by a husband every month on average in Lebanon, while thousands are subjected to physical or verbal abuse every year.
© Copyright IBTimes 2023. All rights reserved.