Dramatic video footage has been released from inside the aircraft that crash-landed at Dubai International Airport on 3 August. Although all passengers were evacuated safely, one firefighter died while responding to the plane that burst into flames.
The Emirates Boeing 777 flight from Thiruvananthapuram, India to Dubai caught fire when it appeared to "belly flop" onto the landing strip. A video taken by a passenger during the sudden evacuation of all 275 passengers and crew has now emerged, revealing the chaos inside the flight as it crash-landed.
Passengers can be heard shouting and children screaming as they evacuate the plane, with many also stopping to collect their bags from the overhead lockers before being ordered by the crew to leave their belongings behind.
Cabin crew can be heard shouting: "Leave your bags and jump down the slide."
The camera then shows people sliding down the slide onto the tarmac of the runway and even shows the plane's engine on fire before it turns off. There were 226 Indian citizens on board the flight, as well as 24 UK nationals and 11 UAE nationals.
A passenger told the BBC: "We escaped from the emergency exit. All the people were jumping out."
Passengers have said that the pilot had warned them of problems with the landing gear and said that he would be making an emergency landing. Emirates Airline has confirmed that the accident was not caused by a security breach and authorities are now investigating whether mechanical or pilot error played a role in what happened.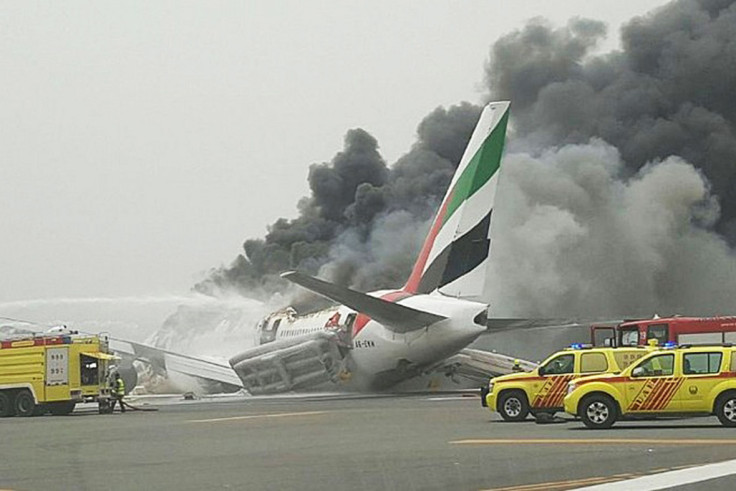 All flights were suspended from Dubai Airport following the incident. Although services resumed a few hours later, the airport continues to operate with only one runway and is, therefore, operating a under a restricted capacity.
A spokesperson for Dubai International Airport said: "To ensure the comfort of passengers waiting for their flights, all food outlets across DXB and DWC are providing free refreshments and water, while free unlimited WiFi has been made available at Dubai International to enable passengers to stay in touch with their family and friends."
The spokesperson added that they were working with the immigration department and Dubai Police to assist passengers with issues relating to visa expiries and lost passports. Meanwhile, Emirates Airline has urged passengers to check the status of their flight before arriving at the airport.