Tesco, Britain's biggest supermarket, looks like a beached whale at the moment. Bloated, stuck, wallowing; in need of a lot of heavy lifting.
The latest warning to burst from its blowhole has clipped hundreds of millions of pounds from its value. It admitted to having overestimated profit by £250m ($408m, €318m) for the first half of 2014/15, now saying it actually made £850m over the six-month period.
An internal investigation has been opened and some directors suspended pending the result. It's a headache new CEO Dave Lewis doesn't need as he tries to return Tesco to the water.
Is this the lowest ebb for Tesco, which has presented customers, staff, and investors with a smorgasbord of tough-to-swallow problems? What must it do to reform, remould, and restore before rigor mortis begins?
"We will find out in due course if Tesco is dead," Clive Black of stockbroker Shore Capital told IBTimes UK.
"However, the being has been significantly wounded and is in need of long-term care. Tesco remains a large and still profitable organisation and is a long way from the funeral parlour. If the present owners and managers do not turn it around then it may be new ones that keep it from death's door."
Decline
Tesco's recent past is ugly. Its share of the UK grocery market slumped to its lowest in over a decade. A tired brand and intensifying competition at both ends of the market, from fast growing budget stores Lidl and Aldi at the bottom to Marks & Spencer and Waitrose at the top, saw customers turn away. And its margins have been squeezed by a fierce supermarket price war.
Investors are put off by rapidly declining profit, cuts to shareholder dividend payments, failed foreign ventures, other difficulties in its international businesses, and the absence of any clear and convincing strategic plan to send all the numbers the other way.
Tesco's decline
Finances: In the 2013/14 year – reported before the latest news about overstated profit – Tesco's group underlying profit before tax dropped 6% to £3.3bn. Beneath that, profit was down 3.6% in the UK, 5.6% in Asia and 27.7% in Europe. Group sales were down 0.2% to £70.9bn at constant exchange rates. It had net debt of £6.6bn.
Dividend payment: Its half-year dividend has been slashed by 75% to 1.16p a share to give new boss Dave Lewis some financial room to manoeuvre.
Market share: Tesco's share of the bricks and mortar UK grocery market has dipped from a peak of 31% in 2007 to 28%.
This is perhaps best shown in Tesco's paradoxical share price. As the UK economy recovers and consumers grow increasingly confident, their finances steadily improving after several years of pain, Tesco shares are sinking. From the beginning of the recovery in 2013 to the time of publishing, Tesco's share price is down by 37%.
After the infamous horsemeat scandal in 2012, which Tesco found itself caught up in, the supermarket announced £1bn of investment to refurbish stores, rejuvenate the brand, freshen up the product range, introduce more competitive promotions and pricing, and start a new marketing drive.
It was the "Build a Better Tesco" programme to lay the foundations on which the supermarket could reconstruct its former hegemony. More than two years on, these foundations are crumbling. It now looks like they spent £1bn on little more than slapping up some new wallpaper, cutting the price of eggs and then telling everyone about it. Over the same period it also shut down its Fresh & Easy business in the US after seven years, with not a single annual profit to its name.
Some traders have now written off Tesco completely. Marc Kimsey, a senior trader at Accendo Markets, said Tesco is "no longer a viable investment".
"Traders are clearing the books of all holdings and reallocating funds in sector peers. The last two years have tested investors' patience, but with the dividend being cut back and today's revelation, justification to hold is non-existent," he said.
Management
Eventually the pressure on Philip Clarke, the former chief executive of Tesco, was too much. He had to go and he did, in July 2014, after 40 years at the supermarket. He had been boss since 2011.
Now Lewis has taken over with clean hands, that pressure is on Tesco chairman Sir Richard Broadbent, who has been in his role since the end of 2011 and has overseen the board during Tesco's worsening financial performance. He said he has no intention of stepping down over the latest debacle of overstated profit.
"Tesco's fundamental problem, as is the case for most troubled companies, is management," said Shore Capital's Black.
"Or put another way, poor management in recent years... There is no quick fix for Tesco. Clearly though, new management has been required and it is now coming into place through Dave Lewis and Alan Stewart [appointed as chief financial officer in December 2013], a new chairman is probably necessary too.
"Beyond that it is putting together and implementing a trading strategy for the UK that rebuilds sales momentum and so profits. Without a recovery in the UK the business goes nowhere."
Nick Bubb, retail consultant to Zeus Capital, agrees that management is the fundamental problem.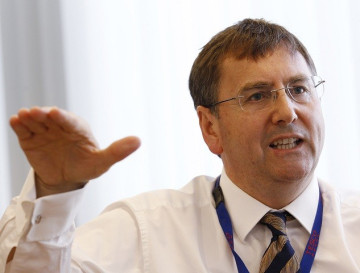 "The basic issue is that the once highly regarded Terry Leahy left the Tesco UK business in a mess 3-4 years ago (starved of real investment and over-exposed to the declining hypermarket format) and management have been struggling ever since to try to stop the rot," he said.
Neil Saunders, managing director of retail analyst Conlumino, said the misreported profit figure "gives the impression of a company that is not in full control of its internal procedures".
"It is just not what you expect from a company as large as Tesco. More significantly, it means that performance - which is already extremely weak - is actually much weaker than anticipated," he said.
"This is something that will alarm investors and means that Tesco has much further to travel to recovery than first thought.
"Although the errors did not occur on his watch, this is not a very auspicious start to Dave Lewis's tenure. It is now more imperative than ever that Tesco outline a very clear and compelling strategy as to how it intends to put is UK business back on track."