A Texas alligator which tried to snatch a 13-year-old boy bit off more than it could chew when the boy's father and grandfather jumped into the lake and fought it off.
Kaleb Hurley was cooling off in waist deep water in Lake Charlotte, Texas during a family fishing trip on 28 June when the alligator, thought to be six to eight feet in length, grabbed him by the arm.
"Kaleb told his mother something had a hold of him," Kaleb's granddad Mark Ford told USA Today.
"When we figured out what was going on, the alligator jerked Kaleb away from him. His dad and I got a hold of Kaleb and got him away from the alligator."
As the men struggled with the alligator, it bit Kaleb's father James Hurley, 42, but he managed to kick it away. All three made it to shore in Cedar Hill Park, Wallisville where relatives called 911.
When paramedics arrived from nearby Anhuac they treated Kaleb and his dad before being flown to Hermann Memorial Hospital where both are said to be doing well.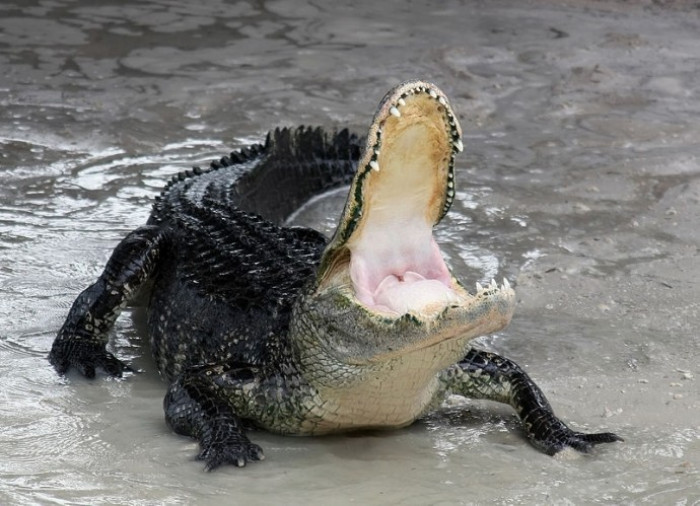 One of the paramedics, Ovielo Ocanas, told KHOU news: "He did something I would do as a father myself. My hat's off to him. He went and defended his son."
The attack was said to be unprovoked. However Chambers County Sheriff Brian Hawthorne told CBS it was the nesting season for the reptiles, many of which have been displaced from other stretches of water by recent flooding.
Locals said they had never heard of a similar incident, but that it might put them off camping by the lake in future.
As humans encroach on alligator territory across the southern US the odds on being attacked are thought to be increasing, but fatalities are rare. On average about one person per year dies as a result of an alligator attack, most of these in the Florida Everglades.