For many victims of Hurricane Harvey, the flood washed away memories of a lifetime. But, the raging storm did not prove to be strong enough to wash away Texas firefighter Kyle Parry and his fiancée Stephanie Hoekstram's dream wedding.
Hoekstram's wedding dress, which she bought for their nuptials in September, survived the hurricane and was still dry despite the raging floodwaters damaging everything else in the house.
According to reports, the couple had evacuated their home along with two dogs and six puppies after Harvey hit the state in late August. Before leaving, Parry had stuffed the wedding gown in the top corner of a wardrobe, hoping it would stay dry.
Days after the storm abated, the 35-year-old firefighter decided to go back and assess the damage.
"A couple of days go by and I needed to get back there. I needed to see the house for myself," Parry said, adding he along with his friend got on a boat as they moved through the flooded neighborhood to evaluate the situation.
"I got out of the boat and I am neck-deep in water, I open the door of my house and I know it's a complete loss," Parry added.
But he was surprised to see that his bride-to-be's wedding gown was completely dry. Parry was live-streaming the damage on Facebook on 31 August. He went from room to room, only to find that everything was ruined except the dress.
"I was a bit in shock, honestly," Hoekstra, who was watching the video, told HuffPost.
"I was thrilled. I loved the dress and looked for it for a while before choosing, but it was more of a sign of hope to me.
"I was a bit numb with everything that had been happening so it was hard to grab my emotions. "The dress was just a silver lining, knowing that our day is supposed to happen, someday, sometime," she added.
But the pair has admitted they are not focusing on their wedding and are giving all their attention to rescue efforts.
"There's a lot of work to do here, helping neighbours and helping our community. I need to find a place to live. I need to buy some clothes. All I have now is a pair of shorts, some underwear and my two fire department uniforms," Parry told CNN.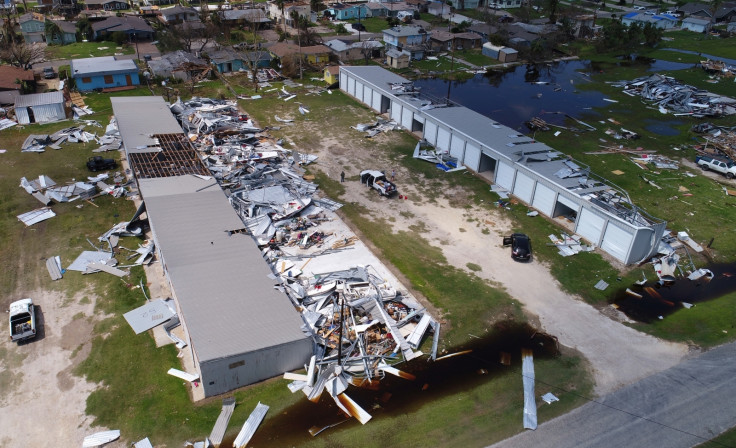 "We love each other so much. We love each other so much," Hoekstra said.
Meanwhile, Hoekstra's sister has set up a GoFundMe page for the couple to help them restore their lost items. The couple has planned to donate half of the funds to other victims in need.