The hot air balloon that crashed, killing all 16 on board, in Central Texas likely hit electrical wires before it plunged to the ground, the National Transportation Board announced. However, NTSB authorities were unclear whether the fire that began on the balloon was ignited before or after it hit the power lines.
NTSB member Robert Sumwalt said the balloon material was found around three-quarters of a mile from the basket, while the victims' bodies were discovered near the basket, NBC News reported. Sumwalt said the balloon had traveled around eight miles before crashing.
Earlier on 31 July, Sumwalt told reporters that investigators were looking into the human, machine and environment aspects of the aerial accident. He noted that it was cloudy at the time of the takeoff but did not say whether it was a factor in the crash.
Sumwalt added that investigators have collected 14 of the victims' recording devices, including mobile phones, cameras and an iPad, in order to try to piece together the accident. NBC News noted that investigators were delayed by the weather to reach the crash site but were attempting to grab evidence as quickly as possible.
"We're looking at operation of a balloon, pilot, and company that operated the balloon," Sumwalt said. The operating company was identified as Heart of Texas Hot Air Balloon Rides. The pilot, identified as Alfred G Nichols, was certified to fly hot air balloons.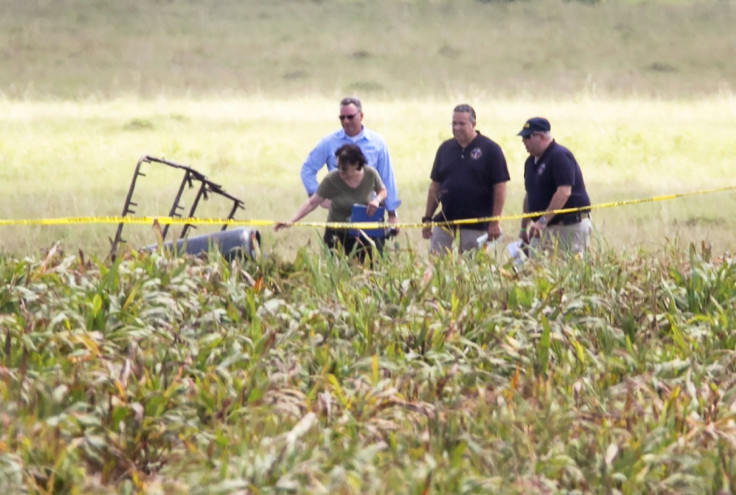 The Associated Press reported Nichols had been arrested in 2000 on a felony driving while intoxicated charge and had pled guilty to misdemeanor DWI in 2002 in Missouri. In 2008, the St Louis Post-Dispatch reported that the Better Business Bureau warned consumers about doing business with Nichols.
Two of the victims were identified as newlyweds Matt Rowan and Sunday Rowan, both 34. Sunday Rowan was the mother of a 5-year-old son who was not with them at the time of the incident. The remaining 13 victims have not been identified.
Texas Governor Greg Abbott released a statement extending his condolences to the victims' loved ones. "Cecilia and I extend our deepest condolences for all those who have been affected by today's heartbreaking tragedy. Our thoughts and prayers are with the victims and their families, as well as the Lockhart community. The investigation into the cause of this tragic accident will continue, and I ask all of Texas to join us in praying for those lost."