Texas: Six people killed and many injured as floods devastate Austin area
Six people have died and at least two are still missing as floods caused by heavy storms swept the region. Unprecedented amounts of rainfall and winds have caused chaotic scenes across the state, with people filming the disasters on their phone.
Three people died after being washed away by floodwaters on Friday (30 October), according to reports by CNBC. Forecasters have issued several warnings, and two bodies were found in Austin and San Antonio areas.
Sky News showed one man climbing in a tree to escape the water as a flood stream took control over his vehicle. He filmed the footage with his smartphone, after which he called the broadcaster from the fragile tree.
"A large weather system moving through the region has been producing heavy rainfall and severe thunderstorms since Friday," a weather.com metorologist said. "Record rainfall has caused flooding across Texas, and the storms have spawned numerous reports of tornadoes over parts of several states."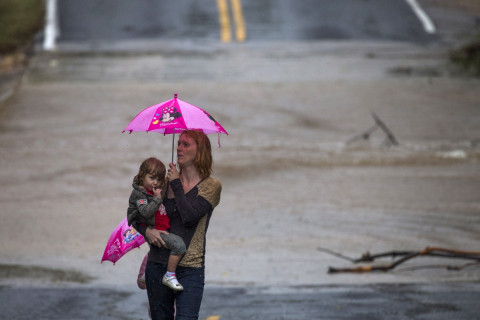 With winds between 75 and 115 miles per hour, the storm caused major damage to properties. Rainfall was reported to be up to 3 inches per hour, something which the dry Texas landscape was not prepared for.
According to reports, many people were injured due to the severe weather conditions, especially those living in fragile or mobile homes.