A Texas state representative is recovering in hospital after being shot in the head by a 'stray bullet' on New Year's Eve. Armando 'Mando' Martinez had just given his wife a kiss as the clock struck midnight when a bullet came out of nowhere and hit him in the head.
The 40-year-old, who has just been re-elected to serve his seventh term, was immediately rushed to Valley Baptist Medical Centre and treated in the neurological unit. Surgeons found a bullet fragment that had punctured his skull and had lodged in the top layer of his brain. Amazingly, he never lost consciousness.
Speaking after the ordeal, he told The Monitor: "At the stroke of midnight, my wife comes over and gives me a hug and a kiss, and right after that I felt like a sledgehammer hitting the back of my head.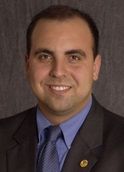 "I grabbed it and she said, 'What's wrong?' I said I was hit by something."
The couple were previously hiding in their garage when they heard the celebratory gunfire but emerged when they thought it was safe to welcome in the New Year.
He added: "We're blessed – God was with us that evening."
Hidalgo County Sheriff's Office has confirmed it is investigating the incident and said it was a miracle that Martinez was alive. It is now warning people against firing weapons at celebrations.
Sergeant JP Rodriguez said: "We have every reason to believe that he was hit by a stray bullet. There is no evidence to indicate he was targeted."
Born and bred in Weslaco, Martinez was once hired by Valley Aircare as a critical care flight paramedic to provide pre-hospital treatment both nationally and internationally, transporting critically ill patients to higher level of care facilities.
On his biography page says he aims to ensure education budgets are not reduced, improving living conditions to include sanitation, running water and safety, and create economic opportunities for the community by boosting employment within the Rio Grande Valley.