Haunting new CCTV footage, obtained by Sky News, has emerged of British backpacker David Miller taken just hours before he and friend Hannah Witheridge were murdered on the Thai island of Koh Tao on 15 September.
David, 24, is filmed on two different cameras some half an hour apart. In the first taken at 1:27am he is alone, walking back through the busy street to the hotel where he was staying. When what appears to be a local man crosses his path they briefly shake hands as if they know each other, but then he keeps walking.
In the second piece of film, taken some 30 minutes later at 1:56am from the opposite direction of the same street, David is seen walking with two other Westerners, a man and a girl not thought to be Ms Witheridge. None of the other people have been positively identified. The film was obtained by Sky News.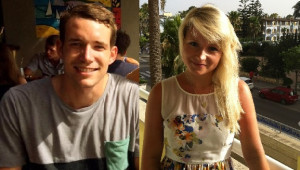 It is thought this is the last image of Miller before he and Witheridge, 23, were brutally attacked by what police believe were three attackers on Sairee beach just two hours later. It is believed Miller was drowned as he put up a desperate struggle. Witheridge was bludgeoned to death.
Local police have come in for a lot of criticism over the slow progress of the investigation, with the murder scene not being sealed off for 48 hours and no suspects yet being named, despite DNA evidence being taken from the scene. Two British brothers, Christopher and James Ware, who were friends with Miller have been ruled out of the investigation and can return to Jersey.
Lt Gen Panya Mamen, who is leading the enquiry, told the Phuket Gazette he thought police were close to identifying the murderer: "There is a lot of evidential information that we cannot reveal to the media right now."
Witheridge's family are in Thailand and being kept up to date with the investigation. It is thought the bodies will be repatriated back to the UK.
Thailand's new prime minister Prayuth Chan-ocha came in for a barrage of criticism after saying female tourists could not expect to be safe in his country wearing bikinis unless they were "not beautiful". He later apologised.