Baroness Thatcher is to be laid to rest on 17 April after a lavish funeral ceremony at St Paul's Cathedral - but it will not be the state occasion many of her dedicated supporters want.
Crowds are expected to line the route to see the former prime minister's ceremonial funeral, which is likely to be on a scale similar to that of Princess Diana's service in 1997.
According to reports, preparations for Thatcher's funeral started five years ago. She retired from public life in 2002 and public appearances were increasingly rare. Her death from a stroke was announced on Monday.
But her final moments in the spotlight are likely to attract glaring scrutiny. Her coffin will be placed on a gun carriage and then drawn through the streets by members of the King's Troop Royal Artillery.
It is set to be an occasion full of glittering pomp and circumstance, with few obvious differences from a state funeral.
In the days leading up to the funeral, Thatcher's coffin will lie at the Palace of Westminster for MPs to pay their respects. On Tuesday it will be moved to the RAF Chapel in Whitehall, in accordance with her wishes.
On the day of the ceremony, a route from Whitehall to St Paul's Cathedral along The Strand will be lined by a military bearing party, comprising members of all three armed forces.
A Downing Street spokesman told IBTimes UK this was in accordance with Thatcher's wish for a military presence at the occasion.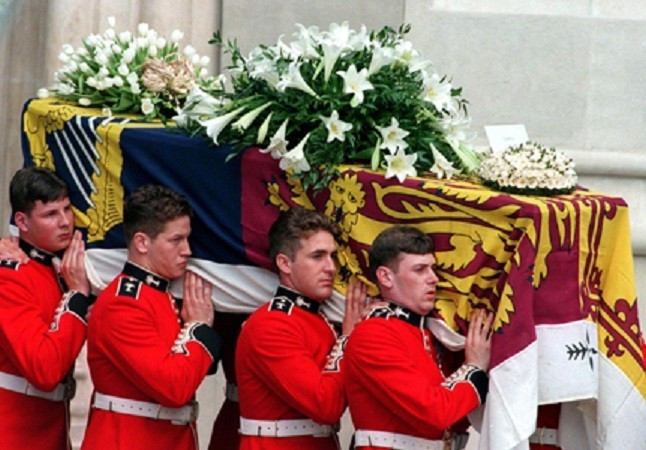 Members of the public will be allowed to line the whole route from Whitehall to St Paul's Cathedral, where the funeral service will take place. A string of world leaders expected to be in attendance include USSR president Mikhail Gorbachev.
But following scenes of street parties in London and other cities, during which revellers celebrated Thatcher's death, it is to be expected that some people will object to her receiving the same treatment as Lady Diana did.
Among her supporters, a campaign was launched to petition Downing Street to upgrade the ceremonial funeral to a full state one.
But it is understood Thatcher herself did not favour a state burial, which would require an request by Prime Minister David Cameron to be granted by the Queen.
That is an occasion reserved for the Sovereign and there have been only three exceptions in history - including one in the 20<sup>th century.
Wartime leader Sir Winston Churchill received a state funeral, for the way he united the country during World War II. As the response to Thatcher's death has shown, she was a much more divisive figure than her fellow Conservative leader.
The only other recipients of a State funeral were the Duke of Wellington, also a former PM but more famous for inflicting Napoleon's final defeat at Waterloo in 1815, and William Gladstone - who served four terms in Downing Street and famously said he backed: "the masses against the classes."