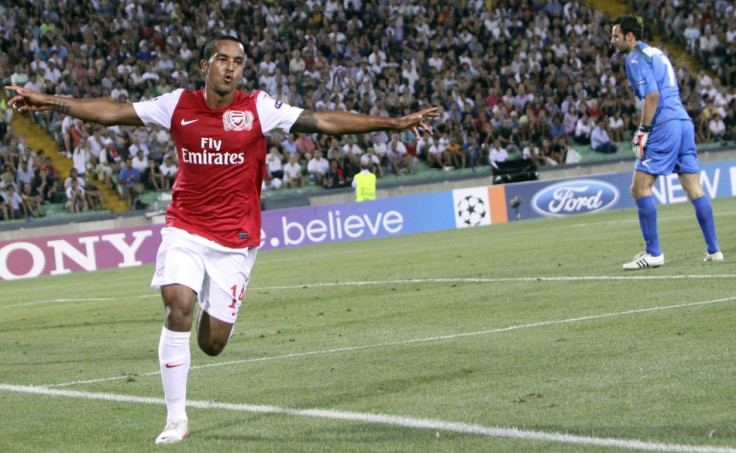 Robin van Persie has revealed that Theo Walcott is the reason behind his top form this year, with the striker claiming that the two players have a 'connection' that has allowed them to have a hand in bringing Arsenal back to within contention for Champions League qualification.
Van Persie has currently scored 13 goals across all competitions this season, and in every game the Dutchman looks a decent chance to add to that tally as the Gunners aim to recover from a disappointing start to the season.
And the 28-year-old has revealed that Walcott, who himself has four goals on the board so far this campaign, has been particularly influential on the pitch in providing van Persie with his fire power.
"After every single goal, people ask me, 'Who gave the assist?' I just say, 'Who do you think?' We have that connection. I know what he is going to do, which is very important," van Persie told the Daily Mirror.
"It's vital to have a player around me, as a striker, who knows where I move, how I move, do I want the ball into feet, do I want it behind. He knows where to find me. Stuff like that is vital."
Van Persie recalled how Walcott had celebrated with him when he scored his 100th goal for the club against Bolton in September, telling the paper: "It was just a big honour and I asked Theo to celebrate with me. I had my history with Arsenal Football Club."
Both van Persie and Walcott will be out of contract with Arsenal within two summers, and the club are hoping to organise talks before the next transfer window to avoid speculation growing over possible moves away from the club.
Last summer Arsene Wenger had to endure a great deal of pressure over whether to let go of Samir Nasri, who was out of contract with the club within a year and fielding interest from Manchester City. The Gunners decided in the end to allow their prized possession to leave, and Wenger is said to be desperate not to let the same scenario happen with van Persie or Walcott.
And as the pair have hit top form for the club, Arsenal have come back from their worst start to a season in over 50 years to sitting at seventh in the Premier League table. The side are now only three points behind fifth placed Tottenham and fourth placed Chelsea, and after winning six of their last seven matches, they will be pushing to get back into Champions League contention.