Theo Walcott has admitted that he would love to partner Robin van Persie up-front at Arsenal, with the winger still learning where his strengths are in different positions.
Walcott has made 42 appearances so far for the Gunners this season, and scored 10 goals, but his assists to van Persie have earned him special praise from the on-fire striker in the past, though fans have found the young star frustrating to watch at times.
And Walcott insists that for his age, he has achieved a lot, and wants to continue to grow and develop as a player and move through Arsenal's difficult periods with more ease.
"I have broken 200 appearances now and a lot of people don't break into the team until they are 24," Walcott told Standard Sport.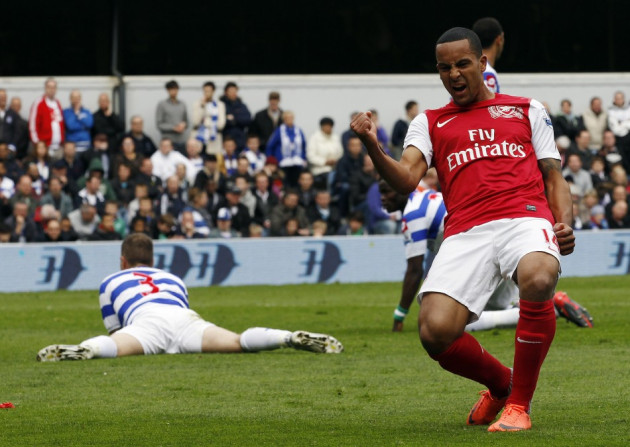 "So people forget that and they expect a lot from me. I got into the World Cup squad immediately and there was always going to be pressure on me straight away. But I think I have dealt with it well. Class is always permanent and form dips during the season - that's always the case.
"You can't play well all season and I was struggling. I don't know why. Maybe I took my eye off the game. I am always going to be judged on stats and it has definitely picked up since Spurs. When you are playing in a team that's winning, it makes your job so much easier. That game was massive for me but also for the team."
Walcott's current deal with Arsenal runs out in the 2013 summer, and it would appear that the 24 year old will sign on the dotted line for a new deal if van Persie does the same.
The England International clearly admires the striker, and has ambitious plans to partner the hitman up-front in the future for Arsenal, even if right now he isn't able to give the position a try.
"You don't want to change the formation at this stage of the season when you are fighting for third," he explained.
"People forget I am a striker and I'm learning the right-wing trade more and more. I want to play up front but I am not the sort of player to play up there on my own. I need a big man with me.
"That's not the way we play at Arsenal so we'll see. I am not the sort of player who likes to tell the manager I want to play up front and argue why it isn't happening. You can't change the system now but hopefully it'll happen next year.
"I love scoring goals - that's what I want to do. To play with Robin up front would be a dream. We link well together and I think we could form a great partnership."
Arsenal are indeed fighting hard for third place, and have a chance to topple Manchester City from second if they can keep their form up and City continue to falter. The north London side have set two clear aims for the end of the season; to qualify for the Champions League and to finish above Tottenham, and with Walcott's current form, they are on track to achieve both.