After a game of 120 minutes, 12 goals and one of most memorable comebacks in English cup history; expert analysis amid the deluge of manic entertainment is arguably futile. But here goes.
While Reading boss Brian McDermott was left 'embarrassed' by Arsenal's superb second half turnaround, he will be more concerned how the ramifications of the defeat will impact on the remainder of The Royals' Premier League campaign.
Without a win in their eight league games ahead of a crucial meeting this weekend with fellow strugglers Queens Park Rangers, albeit against whom they have recorded one of only two win this season; in the League Cup third round, McDermott must surely be worried by the confidence of his players after they surrendered a four-goal first-half lead.
Reading's intensity, high line and desire, which has defined their performances back in the top flight, finally bared fruit against a Gunners side who were like a rabbit in the headlights. After a week of Arsene Wenger undervaluing the significance of the League Cup, the performance of his players suggested they believed it also.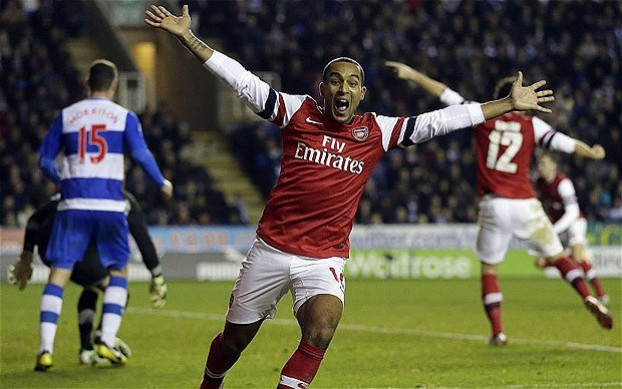 Misfortune might have accompanied Reading's second and third goals, but the nature of Noel Hunt's 37th minute fourth, in which he beat an insipid Carl Jenkinson to the ball to head beyond the hapless Damian Martinez, provided evidence that the hosts hadn't just outplayed Arsenal, they'd out fought them too.
McDermott should take satisfaction from the nature of Arsenal's blistering comeback after the interval, sparked by Theo Walcott's goal on the stroke of half-time, in that few teams could have lived with Wenger's side.
And in Walcott, Arsenal had a talisman they've been devoid of since the days of Thierry Henry. It wasn't so much his devilishly brilliant hat-trick, nor his delivery for Oliver Giroud's header, but more the manner in which he picked up the batten for the north Londoners, in adversity, and drove them over the line.
If every player has a defining performance, Arsenal and England supporters, and those who have touted Walcott's ability, from George Burley to Sven Goran Eriksson to Wenger, will be hoping his performance in Berkshire will signal a turn in his career. The evening truly represented the 23 year old's coming of age.
Like Henry, it was moving Walcott to a more central role that improved his overall involvement. Both players found it tough early in their career while stationed wide, with their contribution sporadic, yet accuracy and success demanded with every passing input.
Having seemingly dismissed the notion that the England international could make a central striker, Wenger must be forced to reassess, not least given the inconsistent displays of Giroud and Lukas Podolski thus far.
As for Walcott, whose lack of progress during his relatively short career seemed likely to lead to a departure from Arsenal next summer, his crowning moment on Tuesday evening could signal a change in his fortunes. A long way to go there might be, but given the events at the Madejski Stadium, Walcott must now believe in the powers of recovery.