There was a brawl in McDonald's over a delayed McChicken Sandwich and a woman filmed it all
Des Moines Police arrested two people over the fight in an Iowa branch of McDonald's.
Two people were arrested by Des Moines Police after a brawl in an Iowa branch of McDonald's over a delayed chicken burger. The incident was caught on camera by another McDonald's customer, Amanda Garland Gravely, who posted the footage to Facebook.
A female customer, irritated by the length of time it was taking to serve her McChicken Sandwich, began throwing things over the counter at McDonald's staff. She had been demanding her money back.
"Automatically because of how irate she was, I took out my camera," Gravely told the local news station KCCI News. "It just escalated really quickly."
Both her and a male friend angrily berate the server, before she jumps onto the counter to launch an attack after yelling: "Who the f**k do you think you're talking to?"
The manager retaliates after the blonde woman hurled an item from the counter. The woman then hits the manager, who drags her down off the counter by her hair, and the pair grapple as people try to separate them.
The man with the woman angry about her chicken burger yells: "Grab her hair!"
A 21-year-old woman and 24-year-old man were arrested and charged with assault causing injury and disorderly conduct.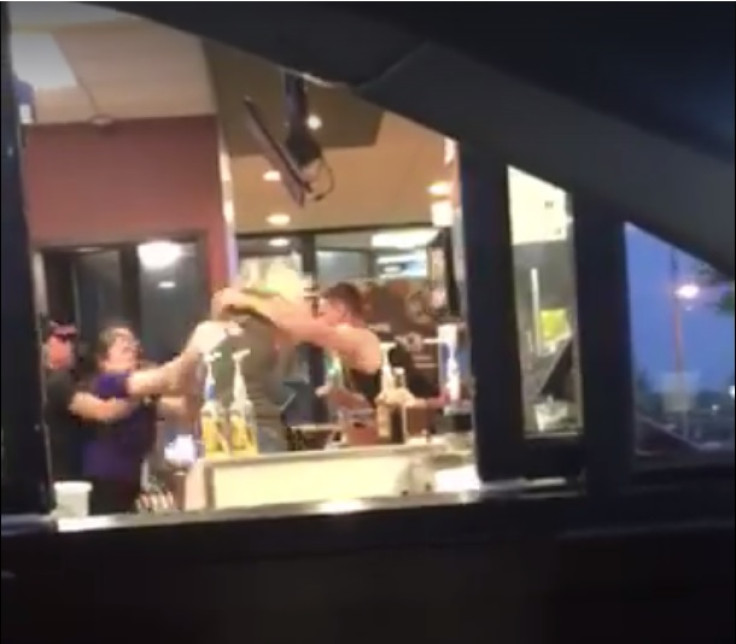 © Copyright IBTimes 2023. All rights reserved.