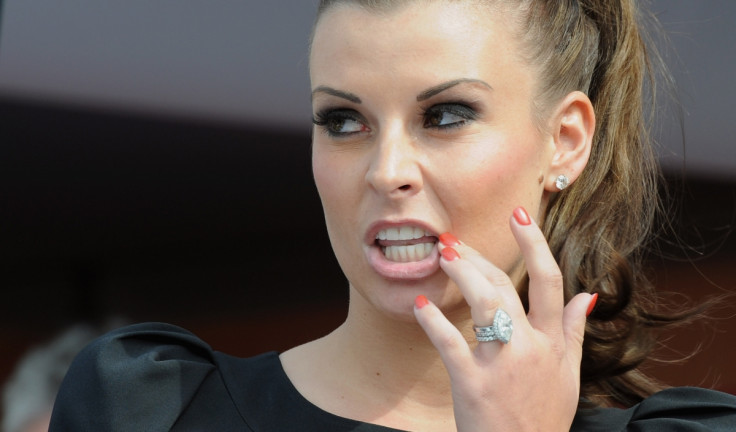 Pregnant Coleen Rooney has fuelled rumours that her marriage to Everton star Wayne is over, stepping out without wearing her £450k ($580k) wedding rings following his drink-driving arrest.
The 31-year-old WAG, who is expecting her fourth child with the footballer, flashed her ring-free fingers in public after wearing her diamond-encrusted £250k wedding ring and £200k engagement ring on a daily basis for nearly 10 years.
Friends of the childhood sweethearts claim that their marriage may be over after it was claimed Rooney "kissed and cuddled" 29-year-old office worker Laura Simpson and leered over her breasts before driving her car home and getting pulled over by police.
A source told The Sun: "It doesn't look good. A lot of people have been telling Coleen to call an end to the marriage.
"She's been humiliated again and there's only so much a person can take. She's stood by Wayne for years and put up with more than any wife should.
"Stepping out in public without her ring sends a clear message to Wayne — enough is enough, this time things might have gone too far.
"And as things stand, it looks like there is no way back."
The mother of three appears to have put her marriage woes aside for the time being, tweeting an adorable snap of her son Klay in uniform for his first day of school.
She said: "Big school for my gorgeous Klay!! "
On Sunday she warned photographers to stop harassing her, tweeting: "Please can photographers have respect and stop following me with my three children in the car.... it's dangerous and I've had enough."
Friends told the Daily Star that she was back in the family mansion as of last night (4 September), adding that she "does not plan to dash to the divorce court".
Another source said: "She thinks he's been a stupid idiot and he'll be in the dog house – or more likely the spare room – for some time.
"But Coleen is a strong, down-to-earth woman who won't be as foolish as he has been." They also added that she does not "take marriage lightly".
The couple tied the knot during a £5m ceremony in Portofine, Italy, in June 2008, with Coleen designing her bespoke wedding ring from exclusive New York jewellers Jacob & Co. She wore it alongside a ten-carat diamond engagement ring from Chopard – a 21st birthday present from the footballer.