There's one group of people who would have been worried sick about the Royal announcement rumours swirling around Buckingham Palace – the South Pacific islanders who worship Prince Philip as a god.
Reports of an "emergency meeting" of senior Royal officials at the palace fuelled speculation that Prince Philip, who will celebrate his 96th birthday in June, had died.
It turned out that the Duke of Edinburgh is just retiring from Royal duties, which is entirely understandable considering he's not far off 100 and has had a number of health problems.
But it was particularly relieving news for a group of islanders on Tanna, Vanuatu, in the South Pacific because their cult, called the Prince Philip Movement, regards him as a deity.
It started around 60 years ago when Prince Philip was seen to be the embodiment of an ancient prophecy. The prophecy claimed that the son of a volcano god would appear as a white man who leaves the island to marry a powerful woman in a distant land before one day returning.
And, apart from the fact that he was born into European royalty in 1921, and didn't, as far as we know, descend from a volcano in the South Pacific, Prince Philip naturally fits the bill.
"Once upon a time there were two women," said Siko Nathuan, the village chief at Yaohnanen on Tanna, to France 24 in 2010. "They were sitting when this volcano came. They had intercourse then Prince Philip came. Then they were sent back. That's how we know about Prince Philip.
"He left Tanna to go to England as a messenger. Once there, he married the Queen."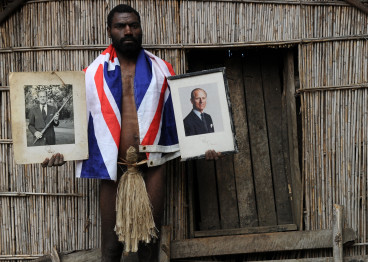 The prophecy also said Prince Philip would return to the island on his 89th birthday, though he didn't show up. But that didn't dampen their faith in the Duke.
One of the most striking pieces of evidence, said Nathuan, is that his grandfathers carved a wooden club and sent it to Prince Philip telling him to return a picture of him holding it if he is indeed from Tanna. And that's exactly what Prince Philip did. He has even sent them a signed photograph.
According to the Prince Philip Movement website, the cult was formed "when – presumably – the islanders first saw the portrait of Prince Philip and the Queen in government outposts run by British colonists. They believed that he fit the description of the legend, and this belief was only strengthened when the Duke himself visited Tanna in 1974.
"The tribe believes that Prince Philip originates from Tanna and he is a god in human form, containing the spirit of the Messiah. They also state that their own belief in him brings them life."
And, if their beliefs are right, they're in for a big payday when Prince Philip does pass away: "Although they await his return every year, they believe that when his mortal form dies, his spirit will return to Tanna and bring the entire wealth of the British crown back with him."