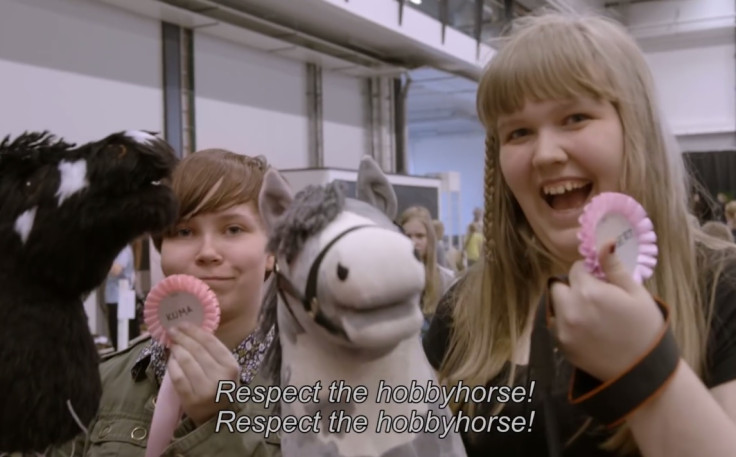 It's hard to watch images of teenagers prancing about on homemade hobby horses at human gymkhanas, trotting about the place and literally jumping over hurdles, and not lol yourself into a coma.
But the trailer for Hobbyhorse Revolution, a documentary from Tuffi Films exploring the craze gripping Finland's teenage girls, which is released on 31 March, is strangely moving.
A hobby horse is a toy horse. The type used by the girls, which they make themselves and give names, is a long wooden stick that goes between the legs and a fabric horse head at the top.
"My parents got divorced in 2006," says Elsa, one of three girls followed during the film, directed by Selma Vilhunen. "I don't remember much about the years between 2006 and 2011. All I can remember is hobby horses and my friend Roosa."
The growing community of hobbyists is organised entirely by volunteers. They train each other and arrange competitions across the whole of Finland, where the winners collect rosettes just like in ordinary dressage events with, well, actual horses.
"In one hand they are active online with their Instagram accounts, blogs and forums while on the other they practise the sport by exercising outdoors in woods and parks – and they are serious," says the Tuffi Films website.
"They are an ever-growing group that trains determinedly and organises nationwide competitions. Every handcrafted hobby horse has its own name and personality. The age range of hobbyists is continuously expanding with the eldest now over 20 years old.
"Playing with hobby horses is a traditional children's activity, but today's Finnish teenagers have created a versatile hobby around it, raising the scene to a whole new level. The hobbyists are unofficially organised, working on a voluntary basis."
One of the biggest advantages of hobby horse enthusiasm over the real thing is cost. Horse riding is only really open to those with money. Hobby horsing is much more accessible.
Fundamentally, the girls use hobby horses as a way to find friends and make sense of the world as they face all the challenges of growing up. It gives them a focus and a network.
And, let's be honest, it's probably better than snorting bath salts and hacking into the Pentagon or whatever it is teenagers do these days.
Watch the trailer for yourself.