Theresa May blamed as one in six police officers 'plan exit' across England and Wales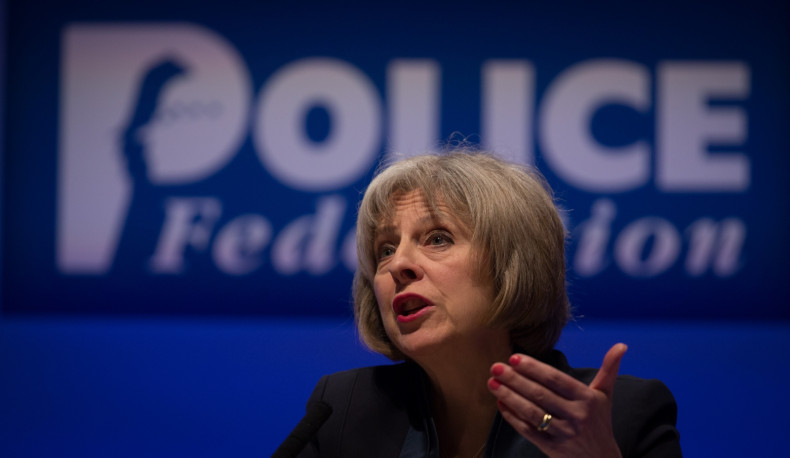 Morale for police in England and Wales is at a low as one in six officers plan to leave the force over the next two years, according to the Police Federation of England and Wales.
The staff association, which represents around 124,000 members, conducted a major survey of 32,598 officers.
The study found that almost 16% of police are planning to quit their jobs because of the impact of the occupation on their health and family life.
The report found that nearly all (95%) of the respondents who planned on leaving cited "how the police as a whole are treated" as having an impact on their decision.
Labour's shadow policing minister Jack Dromey partly blamed Home Secretary Theresa May for the low morale within the force.
"As the thin blue line is stretched ever thinner so too are police officers under ever more pressure. One in six police officers are now planning to leave within two years and both sickness and stress leave have reached a record high," the Birmingham Erdington MP said.
"Sadly many of those who have devoted their life to protecting the public are now leaving in despair both because the police service is suffering the biggest cuts of any in Europe and because of the way that the police service has been treated by May."
The survey also revealed that more than three quarters (79.4%) of those planning to leave said the draw of better job opportunities outside the force had an effect on their decision.
Jim Battle, deputy police and crime commissioner for Greater Manchester, told IBTimes UK: "We recognise that police officers and staff are under a great deal of pressure as numbers fall and demand increases, particularly as they are having to face increasingly difficult issues such as child abuse and domestic violence.
"While there are many strains and stresses on the police service, the public is impressed by the high standard and performance of officers and staff, knowing they will go the extra mile to keep people safe."
The survey comes after a separate report from the National Audit Office (NAO) on 4 June warned that forces across England and Wales do not have a "clear understanding of the demands placed upon them".
But the watchdog said forces have "successfully" reduced costs since 2011, with an estimated fall of up to 23% between 2010-11 and 2015-16.
"Although police forces have successfully reduced costs, without a thorough understanding of demand or the factors that bear on their costs it is difficult for them to transform services intelligently," said Amyas Morse, head of the NAO.
"The Home Office also needs to be better informed to discharge its responsibilities. It needs to work with Her Majesty's Inspectorate of Constabulary (HMIC), the College of Policing and forces to gain a clearer understanding of the health of the service, particularly around demand and on when forces may be at risk of failing to meet the needs of local communities."
Mike Penning, minister for policing, crime, criminal justice and victims, said: "Policing, by its very nature, is a stressful and demanding job. But it remains an attractive career choice, with a strong field of applicants whenever a force advertises for new recruits.
"Officers will continue to retire earlier than most public servants and pensions will continue to be among the best available. These are just two of the reasons that voluntary resignations have remained at just 2% or less in recent years – far lower than other workforces in both the public and private sectors.
"This government has made it easier for the police to do their job by cutting red tape, scrapping unnecessary targets, and giving officers the discretion to use their professional judgment. These changes have saved up to 4.5 million hours of police time – the equivalent of 2,100 full-time officers."