At least six people are dead and about 50 injured after terror attacks on the London Bridge and Borough Market, police have confirmed. Three suspects were shot dead by officers in an armed response vehicle (ARV) within minutes of the first call.
At 10.08pm on Saturday (3 June) a speeding white van veered off the road and ploughed into pedestrians walking on the pavement on London Bridge. The Bridge is now closed and will stay shut overnight.
The assailants then crashed the van in front of the Barrowboy and Banker pub at Borough High Street, jumped out and started stabbing people. Eyewitnesses said the knife-wielding terrorists stormed into a pub and a restaurant.
An eyewitness told the Sun: "We saw people running away and then I saw a man with quite a large blade, at least 10-inches, stabbing a man three times.
"He was stabbing him quite coldly, and then the victim slumped to the ground." He said the attacker was "black, dark-skinned, red tracksuit on, with a red hoodie."
"He walked quite boldly along with another guy in the direction of the Southwark Tavern pub. Glass bottles and tables were thrown at them, and then we heard gunshots."
Police responded to the attacks and witnesses heard a number of shots being fired. The number of ARVs, which patrol around the city, were increased after a 2015 terror attack in Paris.
'Attackers shot within eight minutes'
Metropolitan Police Assistant Commissioner Mark Rowley said the suspects were "shot by the police within eight minutes of the first call." Rowledy said police believe only the three shot dead were involved in the attack but enquiries were continuing.
Police said the attackers were wearing a "fake suicide vests." A photo circulating on social media showed a man lying on the ground with what looked like canisters strapped to his body.
There were at least three controlled explosions in the area later, The Guardian reported. A British Transport Police officer who responded to the London Bridge attack was stabbed in the face and is being treated in a central London hospital. His injuries, though serious, are not life-threatening.
Prime Minister Theresa May has said the incident is being treated "as an act of terrorism" and she will chair a meeting of the government's Cobra emergency committee on Sunday morning. Police have opened a casualty bureau, which can be contacted via the telephone numbers 0800 096 1233 and 020 7158 0197.
The police said the casualty bureau is not for general enquiries an calls should be made to 999 in an emergency only. The police have urged people to stay away from the affected areas.
The attacks come days ahead of the June 8 election and almost two weeks after a suicide bomber killed 22 people at an Ariana Grande concert in Manchester. Also, five people were killed when a car rammed pedestrians on the Westminster Bridge and a police officer was stabbed outside Parliament.
Police said a stabbing incident reported in nearby Vauxhall was not connected to the terror attack.
About 48 people injured on London Bridge have been taken to five hospitals across the city, the London Ambulance Service said, adding that a number of people with less serious injuries were treated at the scene of the incident.
The hospitals where the injured are being treated are: St Mary's hospital, St Thomas' hospital, University College hospital, King's College hospital and The Royal London hospital.
The service said over 80 medics responded to the incident.
No one has claimed responsibility for the attacks so far. But Reuters reported that the Islamic State terror group had on Saturday called on its followers via the instant messaging service Telegram to launch attacks with trucks, knives and guns against "Crusaders" during the Muslim holy month of Ramadan.
Londoners and businesses are offering shelter for people stranded by the attacks using the Twitter hashtage #SofaForLondon.
Earlier reports of London Bridge terror attack ...
BBC News reported quoting witnesses that three men leaped out of the van that had rammed pedestrians and began stabbing people. An eyewitness told LBC radio: "A van came from London Bridge itself, went between the traffic light system and rammed it towards the steps. It knocked loads of people down.
"Then three men got out with long blades, 12 inches long and went randomly along Borough High Street stabbing people at random."
Armed police are at the scene where eyewitnesses have reported seeing several people lying on the ground with possible injuries.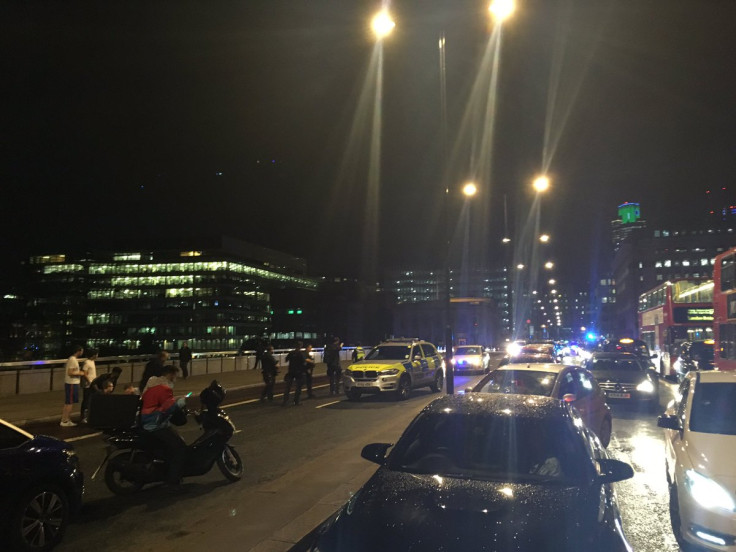 Reuters reported a witness saying she had seen people with "apparent knife wounds" on London Bridge. Emergency services are at the scene attending to the injured.
Eyewitness Alex Shellum reported seeing a woman come into the Mudlark pub with a wound to her neck. He told BBC News: "At around 22:00 BST an injured woman came into the pub seeking assistance. She was bleeding heavily from the neck - it appeared that her throat had been cut. People sought to stem the bleeding and the pub was closed."
Onlookers also reported hearing gunshots. One woman at a restaurant told The Sun police swarmed the area. "We had to run. There was loads of shooting," she said.
The walking wounded are being taken by bus to Liverpool Street station and are being treated for their injuries at a nearby hotel.
There were also reports of a second incident at Borough market. The Metropolitan Police later reported that an incident at Vauxhall incident was "a stabbing", not connecting to the London Bridge and Borough Market incidents.
Eyewitnesses reported seeing up to 50 police cars. Armed police are evacuating people within a mile radius of the scene, as the public were told to "run as fast as they could" westbound.
The Metropolitan Police confirmed the reports with a post on Twitter which read: "We are dealing with an incident on #LondonBridge, when we have more information we will update this twitter feed."
TFL posted tweets warning the public that the central London landmark was closed to traffic due to an ongoing incident.
London Ambulance have said: "We're responding to this incident and more information will follow when we have it."
Local attractions have been shut down with reports that Kings College Student Union is in lockdown and The Globe Theatre has been evacuated while diners at The Shard have been locked in the building. Shocking footage has also emerged online showing police entering a nearby bar and warning revellers to get down.
Witness Will Orton, 25, told the Press Association: "We were in the Sheaf pub. Basically lots of people came running inside, we didn't really know what was going on.
"We thought maybe there was a fight or something outside. And then there were almost hundreds of people coming inside. The bouncers did a really good job, they shut the doors and locked everyone in.
"There was panic - it seemed like it was literally outside the door. People were coming inside and saying they had witnessed people being stabbed. They had seen and witnessed people being stabbed. It seemed like it was happening immediately outside the entrance."
Casualties were seen being taken away from Tito's restaurant on London Bridge Street with blood on the steps of the eatery.
Staff working at a Premier Inn on Borough High St said that a crowd of people suddenly burst into the hotel in panic. Many of the 180 guests who had been staying there were evacuated as the police cordon extended and have been moved to a pub down the road.
In horrifying footage taken from the scene, police can be heard shouting "clear the area, now" while screaming people can be seen running in fear for their lives. In other video from the scene shows people being escorted away by police with their hands on their heads.
British Prime Minister Theresa May has issued a statement saying: "Following updates from police and security officials, I can confirm that the terrible incident in London is being treated
"This is a fast moving investigation. I want to express my huge gratitude to the police and emergency services who are on the scene. Our thoughts are with those who are caught up in these dreadful events."
She will chair an emergency Cobra meeting later today.
The White House press secretary has confirmed the president is being kept informed about the incident. "National security team has briefed @POTUS on situation at #LondonBridge and will continue to provide updates," he tweeted.
President Trump tweeted a message of solidarity and support to the British people writing: "Whatever the United States can do to help out in London and the U. K., we will be there - WE ARE WITH YOU. GOD BLESS!
Mayor of London Sadiq Khan reacted to the reports tweeting: "The emergency services are dealing with an incident at London Bridge."
Labour leader Jeremy Corbyn tweeted: "Brutal and shocking incidents reported in London. My thoughts are with the victims and their families. Thank you to the emergency services."
Onlookers have been posting images from the scene on social media while others have been opening their homes to anyone needing a place to stay. Facebook has activated its safety check to let people know they are safe. Police have asked the public to avoid the area.
More follows ...