Theresa May has admitted that the support provided to victims of the Grenfell Tower disaster in the initial hours of the tragedy 'was not good enough.'
The Prime Minister made the comments following a meeting with a group of residents at Downing Street to hear their concerns.
"The response of the emergency services, NHS and the community has been heroic," she said. "But, frankly, the support on the ground for families who needed help or basic information in the initial hours after this appalling disaster was not good enough."
She explained that while monies from the £5 million emergency fund was being allocated to victims for food and clothes, more funding would be available if needed.
After hearing residents complaints regarding the lack of support on the ground, she said she has also ordered daily progress reports on housing for those affected.
"There have been huge frustrations that people do not know who to talk to, that they can't get through on the council hotlines," she said. "I have ordered that more staff be deployed across the area, wearing high visibility clothing, so they can easily be found, dispense advice and ensure the right support is provided. Phone lines will have more staff.
"Victims have concerns their voice will not be heard, that their many questions about this tragedy will not be answered. That is why I ordered a public inquiry, with the costs for providing victims with legal representation met by Government.
"The inquiry will be open and transparent. Government and ministers will cooperate fully. I anticipate the name of the judge will be announced within the next few days and that an open meeting will be held with residents to help shape the terms of reference.
"It has been decided today that the public inquiry will report back to me personally. As Prime Minister, I will be responsible for implementing its findings," she added.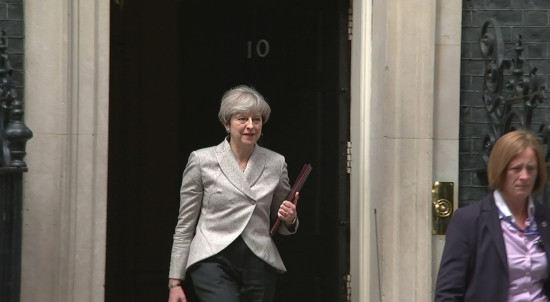 As well as offering practical support to rebuild their lives, Mrs May said counselling support will also be made available.
"After something this traumatic, many people will be in need of not just financial support, but also counselling. NHS London will provide that support," she added.
"I can also announce that NHS London will provide specialist long-term bereavement support for the families who have lost loved ones, and immediate psychological support is being provided by Cruise and Red Cross."
She described the Grenfell Tower blaze as "an unimaginable tragedy for the community, and for our country. My Government will do whatever it takes to help those affected, get justice and keep our people safe."
As the residents left Downing Street after the two-and-a-half hour meeting with the PM, angry demonstrators could be heard shouting: "May out!" just metres away according to Mail Online.
The PM had earlier faced criticism after she avoided speaking to protesters who gathered outside Kensington Town Hall on Friday night demanding answers about the tragic fire. Mrs May was met with jeers and cries of 'shame on you' and 'coward' when she arrived at the scene, three days after the disaster.
In an interview on Newsnight the Prime Minister was slammed by viewers for showing a 'lack of empathy'.
30 people have been confirmed dead following the tower block blaze. 70 people are still unaccounted for while many remain in a serious condition in hospital.