PM Theresa May pledges to re-house victims of Grenfell Tower disaster 'in three weeks'
The PM announced a £5m fund to support the victims of the disaster.
Theresa May has pledged to rehouse the victims of the Grenfell Tower disaster within three weeks.
The Prime Minister announced a £5m fund as part of a "comprehensive package" of support for victims of thedisaster.
The emergency response package which was agreed in a two-hour cross-Whitehall meeting on Friday afternoon will include an inquiry into why the "horrifying fire" at the Grenfell tower block happened.
The package includes a number of measures to ensure the displaced residents are supported as they face the ongoing ordeal in the aftermath of the tragedy.
Residents will be rehoused as close as possible to their previous address, either in Kensington and Chelsea borough or a neighbouring borough, in order for them to access their same schools and GPs.
The cost of temporary accommodation will be covered until they are rehoused, with the Government also providing cash for any extra expense incurred by children travelling to their local school.
A £5m Grenfell Tower Residents' Discretionary Fund will be made available immediately to Kensington and Chelsea Council to help cover the loss of possessions, pay for funerals and pay for emergency supplies.
The Treasury will work with banks to ensure those who lost bank cards can still access their accounts.
The Department for Work and Pensions will work with job centres to ensure continued access to benefits and pensions.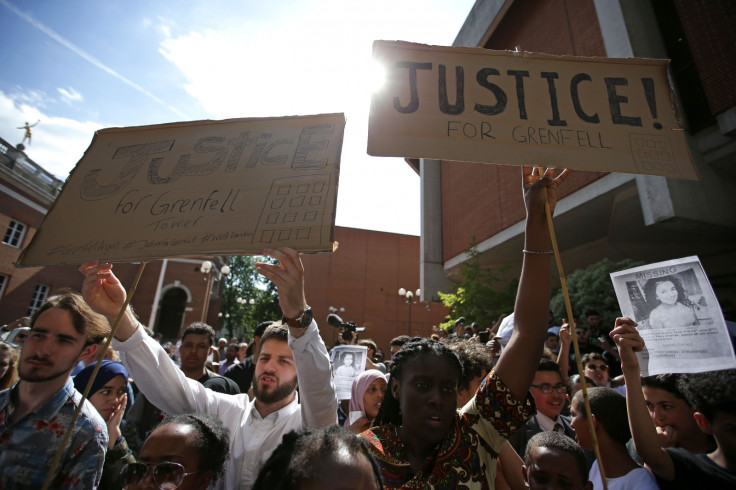 May vowed to "continue to look at what more needs to be done".
While the Prime Minister faced criticism over her earlier visit to the disaster site when she spoke only with fire fighters she said she was "determined" to reassure all those affected by the tragedy "the Government is there for them at this terrible time".
Meeting some of the survivors at Chelsea and Westminster Hospital she said: "I spoke with people who ran from the fire in only the clothes they were wearing. They have been left with nothing. No bank cards, no money, no means of caring for their children or relatives."
According to BBC News May was met by angry protests as she left with people with shouting "coward" and "shame on you".
© Copyright IBTimes 2023. All rights reserved.