Theresa May made a veiled warning at the United Nations that Donald Trump's plan to take the US out of the Paris climate deal was as much a threat to the globe as North Korea's missile tests.
The British prime minister delivered her message at the UN General Assembly to a sparse audience with a number of empty seats which contrasted sharply with the packed-out house when Trump and the French leader Emmanuel Macron spoke.
Although she did not mention the US president directly, she used the speech to say the Paris climate change accord was as key to maintaining global security as the nuclear non-proliferation treaty.
"It is the fundamental values that we share, values of fairness, justice and human rights, that have created the common cause between nations to act together in our shared interest and form the multilateral system.
"And it is this rules-based system which we have developed, including the institutions, the international frameworks of free and fair trade, agreements such as the Paris climate change accord, and laws and conventions like the non-proliferation treaty, which enables the global co-operation through which we can protect those values," she said.
The United Nations Association of the UK said in a statement that it was pleased May had acknowledged the "special responsibility" the UK had in ensuring the UN Security Council played a central role in international relations.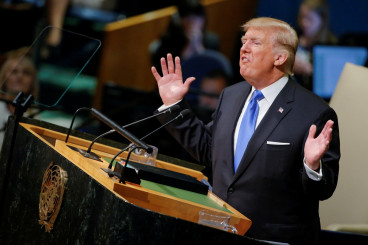 North Korea threat
Lord Wood of Anfield, Chair of UNA-UK, said: "But the Prime Minister needs to recognise that playing by the rules must start at home. The UK's conduct in selling weapons for use in Yemen and boycotting nuclear ban talks has an eroding effect on our rules-based international system which the Prime Minister herself said supports the national interest."
While May was the first foreign leader to visit the White House, she has been concerned at the decision to renegotiate the Paris treaty. Her speech on Wednesday (20 September) preceded her meeting with Trump in New York.
Trump told the UN on Tuesday that the US would "totally destroy" North Korea if it did not keep its nuclear ambitions in check.
On Pyongyang, the British prime minister said that Kim Jong-un had shown "contempt" for his neighbours and the institutions that have preserved peace and security.
"On this challenge the UN has in recent weeks shown it can step up to the task, with last Monday's security council resolution creating the biggest sanctions package of the 21st century," she said.